Despite continued COVID-19-related uncertainties and questions about economic sustainability, apartment developers and investors along the Gulf Coast are surging ahead with new projects and purchases.
As the pandemic continues to be brought under control in Florida, multifamily rental developers are proceeding with a slew of new offerings throughout the region — projects that will result in thousands of new units.
"The market along the Gulf Coast of Florida is very strong right now, and multifamily rentals in general have been the beneficiary of COVID-19-influenced in-migration into the state," says Keith Gelder, president of Stock Luxury Apartment Living, which has built upscale apartment complexes in Naples and Fort Myers.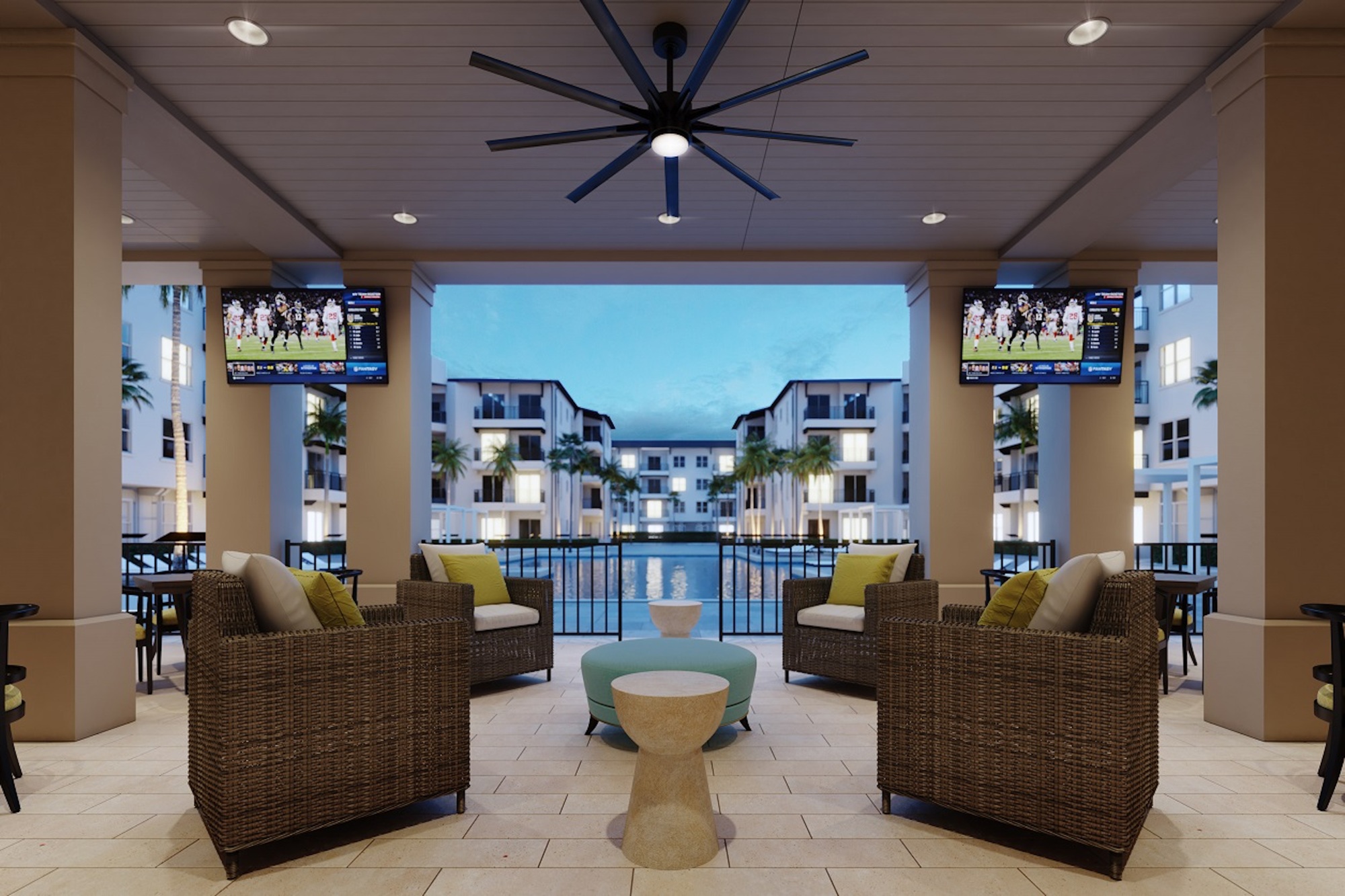 The division of Naples-based Stock Development has projects either under construction or planned in Sarasota, St. Petersburg, Naples, Estero and Wesley Chapel, which will deliver roughly 1,600 units.
"That in-migration has increased rents and lowered vacancies, which then has a ripple effect on new product," Gelder adds.
The company's 300-unit Citria complex in Sarasota, part of a 50-acre mixed-use development under construction, illustrates the trend.
Typically, Stock will sign 20 or 25 leases per month on a new project when marketing begins, Gelder says. At Citria, the company signed more than 100 leases in its first month of marketing.
"It shows the level of demand and the lack of availability," Gelder says.
At the same time, investors are collectively pouring hundreds of millions of dollars into apartment acquisitions, property records show.
Irvine, California-based Passco Cos. is one such active investor. Last month, the company spent $92.9 million to buy the 338-unit Altis Promenade complex in Lutz.
The community, which features a series of four-story buildings developed by Boca Raton-based Altman Cos., was completed last year.
"The property is as elegant as it gets," says Colin Gillis, vice president of acquisitions at Passco. "It's over-amenitized and it has something for everyone: an unbelievable swimming pool, game rooms, gardens, over-the-top fitness center and a killer playground.
"It's in a suburban area with good schools, and its access to Westshore is unrivaled," Gillis adds. "Altis Promenade is, I'd have to say, the crown jewel of our Tampa-area portfolio."
In all, Passco owns a handful of projects from Tampa to Sarasota. Statewide, its portfolio contains 15 apartment properties.
The Gulf Coast developments and the buying spree come in response to ongoing stellar in-migration and job growth data through Central and Southwest Florida, and to single-family home price hikes that have outpaced inflation and wage growth.
The influx of new residents and the widening home affordability gap, in turn, have pushed apartment vacancies down to historically low numbers in the Tampa Bay area, especially, and rental growth rates to record highs.
At Altis Promenade, for instance, occupancy is at 98%, Gillis says.
Additionally, apartment projects are increasingly attractive to buyers because they tend to be better hedges against inflation than many other investments or real estate classes, experts say.
In the first half of this year, for instance, the average multifamily rental vacancy in Tampa fell below 5% for the first time ever, pushed along by the absorption of more than 5,000 units in the first six months of 2021, according to data collected by commercial real estate research firm CoStar Group.
At the same time, buoyed by that first-half performance and demand outpacing supply, rental rates in Tampa rose by 15% during the second quarter ended June 30, CoStar notes — the highest amount in the U.S. and a percentage that far outpaces the national average.
"Rents have been moving like crazy in Tampa," Gillis says.
Those fundamentals, in turn, have drawn developers eager to capitalize on the trendlines.
Orlando-based Unicorp National Developments Inc. has nine multifamily rental projects underway, including a 354-unit complex in Lakewood Ranch.
Sota 75, which is being financed with a $75.2 million construction loan from Trez Capital, like Citria is part of a larger, mixed-use development, Southwood Village.
Unicorp expects to complete the complex around the end of next year.
"The state of Florida is very strong right now from a multifamily rental demand perspective," says Chuck Whittall, Unicorp's president and CEO. "Apartments are a very big part of our business and they're very good investments."
Passco is one of many companies that have either entered the Gulf Coast market or added to their portfolios regionally of late.
The Praedium Group, of New York, last month purchased the Crest at Bonita Springs complex in Lee County with a $69.95 million investment. The 264-unit project, completed late last year two miles north of Naples, contains seven garden-style buildings.
"What used to be considered 'snowbird' cities have now proven themselves to be year-round destinations that have attracted residents because of the higher quality of life and lower cost of living," says Chris Hughes, a Praedium Group principal and its co-chief investment officer.
Elsewhere in Bonita Springs, Naples-based TerraCap Management recently acquired the Versol Apartments, a 240-unit complex completed in 2019, for $70.35 million, and in Naples, an affiliate of New York's Blackstone Group spent $80.5 million to buy the Milano Lakes apartments. That 296-unit community was completed in 2018, records show.
Gelder says much of the development and investment interest derives from a continued and growing number of "renters by choice" — primarily empty-nesters and seasonal residents who favor the amenities and carefree lifestyle apartments offer.
"As a result, the pool of renters is expanding," says Gelder. "Multifamily has proven to be a very resilient asset class, and COVID-19 only accentuated that. It's why we believe in apartments as a sector for the long term."
Stock Luxury's current pipeline of projects will keep the firm in development through at least the end of 2023, he says.
Passco's Gillis also believes in the long-term sustainability of the multifamily rental market along the Gulf Coast.
"The greater Tampa area is my favorite place in the state to look for apartment projects," Gillis says. "Everything is firing on all cylinders there right now, all the metrics. And best of all, I think it's got a long way left to run."