Tom Natoli picked a tough time to become an entrepreneur some 15 years ago. The veteran of the supermarket industry had spent six years at professional employer organization First Financial Employee Leasing, where he helped the company become one of the top 10 PEOs in Florida and rose the ranks to the role of company president. That stint inspired him to launch his own PEO.
"I had a vision to be a business owner," he says. So he gave his notice on August 11, 2004 — two days before Hurricane Charley hit the area.
Despite that wallop from Mother Nature, Natoli persevered, setting up his new company, Integrity Employee Leasing, in a garage at a Charlotte County industrial park. Over the years, the company kept growing, graduating into bigger and bigger office space. Today, Integrity Employee Leasing operates out of a building the company owns in Punta Gorda, has 48 internal employees and is expected to reach $250 million in managed payroll this year. The company declines to disclose specific revenue figures.
The company's success can be attributed to a combination of client education, relationship-building and adherence to its values. "Integrity is not just the name of the company," Natoli says. "It's something we live by."
The company now has more than 15,000 leased employees in 18 states, but it's not just a numbers game for Natoli and other senior leadership. "I don't believe you can 'sell' employee leasing," Natoli says. "I made friends more than clients. I spent a lot of time educating people about what employee leasing was."
Building a business
A PEO is an organization that provides comprehensive HR solutions for small and mid-sized businesses. Those services often include payroll, benefits and tax administration as well as regulatory compliance assistance and worker's compensation. According to the National Association of Professional Employer Organizations, there are 907 PEOs in the U.S. that provide services to 175,000 small and mid-sized businesses employing 3.7 million people. Although PEOs have been around in some form since at least the 1960s, Bradenton entrepreneur Bill Mullis, who founded a firm called Staff Leasing in 1984, is considered one of the national pioneers in the sector. That company spawned several other PEOs, in the Bradenton-Sarasota area and in Jacksonville, Tampa and West Palm Beach.    
A company's decision to work with a PEO could be considered akin to an individual deciding to hire someone to do their taxes, NAPEO President and CEO Pat Cleary says. "The more daunting the regulatory environment is, the more valuable a PEO is," he says. "The odds of a small business getting all this stuff right are almost zero, and the downside of getting it wrong is from bad to disastrous. If I'm a small employer, and I misclassify people as hourly versus salaried, that is every plaintiff lawyer's dream. Those are massive lawsuits where if you guess wrong on that, the results can be disastrous."
The regulatory environment at the local, state and federal level is one reason why NAPEO has seen the number of worksite employees covered by PEOs grow steadily year-over-year. He says younger CEOs are also more willing to embrace outsourcing. "Anybody who's been an MBA student in the last 20 years has had one commandment hammered into them: If it's not your core business, outsource it," Cleary says.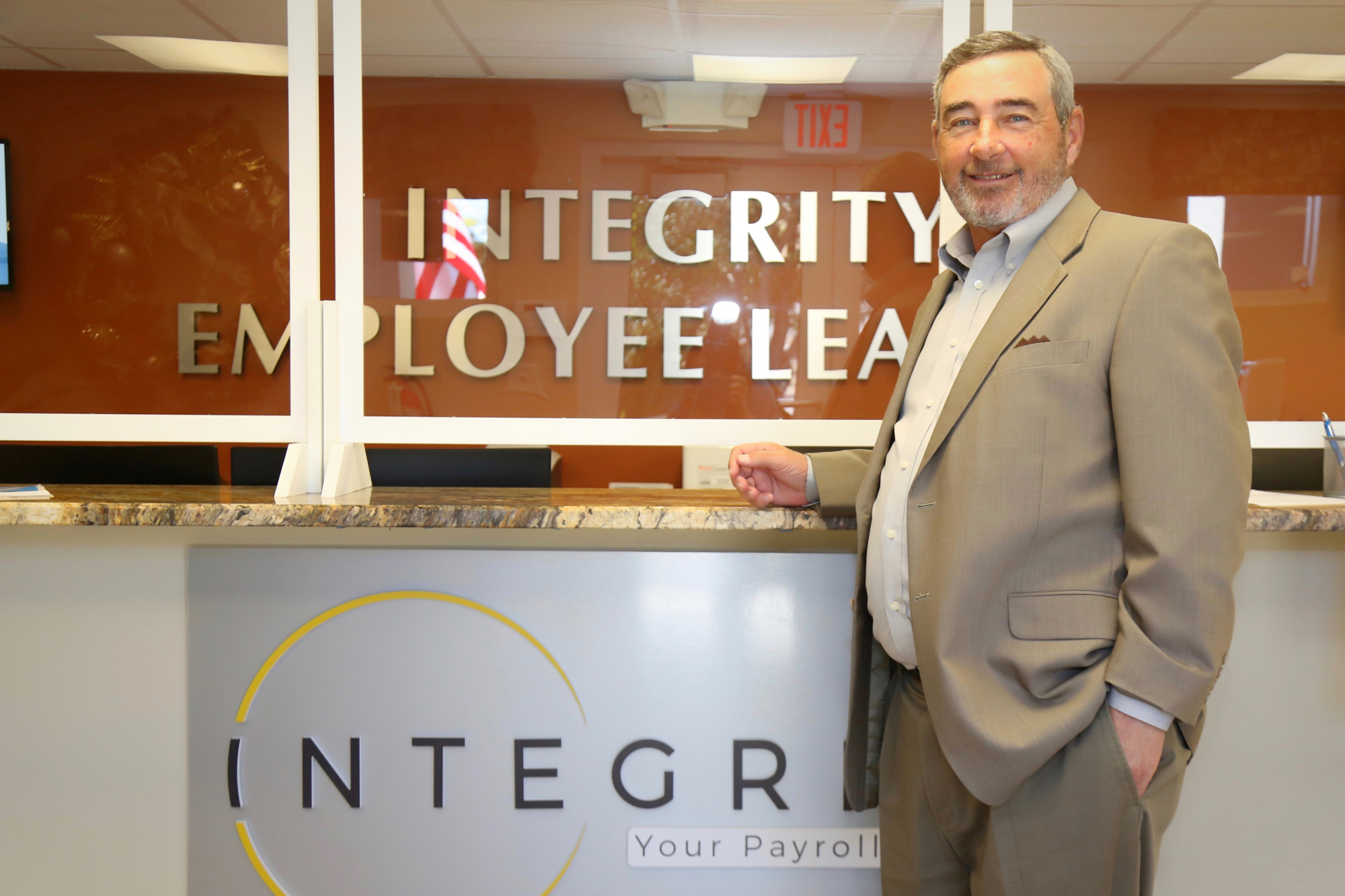 For Natoli, he first grew his client base by negotiating a deal with his former employer. He signed a two-year nonpiracy agreement with them in exchange for the ability to solicit 25 of his clients who were also good friends of his. "With that I was able to start out with 25 clients, and I honored the two-year noncompete," Natoli says. "I stuck with the name Integrity, and we lived that."
He also found new clients who hadn't worked with his previous employer, spending time with them to get to know their companies and explain how a PEO could help them. "I understood payroll and HR, and it was easy for me to walk into a business, which I love doing, and ask about their business," he says. "And I found it very easy to move them over from where they were or from if they were doing things internally."
Integrity's clients appreciate having someone in their corner and the ability to focus on their core business. Clayton Purtz, the owner of Purtz Air in Punta Gorda, has worked with Integrity for about three years. Because he both runs his company and works out in the field servicing air-conditioning systems, he has seen the benefits of taking administrative tasks off his plate.
"It basically streamlined everything and was one less thing I had to worry about," he says. "And you don't feel like you're dealing with a corporation. They're attentive to the stuff that I need as a small business, and I feel like that goes a long way for me."
Diana Gomez, the owner and director of Sunshine Learning Academy preschool in Punta Gorda, knows the complexities of handling payroll in-house from past experience. Working with Integrity has definitely simplified that process for her. "It's fantastic and really saves a lot of time," she says.
Data from NAPEO shows that small businesses that work with a PEO grow 7%-9% faster, have employee turnover that is 10%-14% lower and are 50% less likely to go out of business than companies that don't use a PEO. "Wages, paying taxes, FMLA compliance — you name it, we've got it," Cleary says. "It's just peace of mind."
Future preparations
Knowing he's built a strong company and client base, Natoli, 68, has started to think about next steps. Over the past few years, he's brought in new members to Integrity's leadership team to help take the company into the future. That includes company President Robert Hensley and CFO Christopher Naylon.
"I have not retired; I remain chairman and founder," Natoli says. But he has turned over day-to-day operations to the leadership team, which is now charged with managing and growing the company. (Natoli has also opened a Port Charlotte sports bar and family restaurant called Finnegan's that he hopes to build into a potential franchising opportunity down the road.)
Hensley is actually a former client of Integrity Employee Leasing, using the PEO to handle his HR needs when he owned and operated a number of restaurant franchises. "I was able to come in with a unique perspective," he says. "Integrity was always my payroll partner that came alongside of me and took care of things I didn't have time to deal with."
Naylon, meanwhile, has two decades of previous corporate experience at Allstate Insurance. "What I'm able to bring to the table is some of the same rigor we had in a Fortune 100 environment, that level of focus on cost and making sure that we get the right redundancies in place," he says.
Those two, along with CEO Toby Starr and executive vice president Edie Long, now shepherd the company as it continues to grow into the future. In recent years, Integrity has invested $400,000 into a new software platform to better handle client growth, opened a regional office in Knoxville, Tenn., to support continued geographic expansion and introduced bookkeeping services in response to client requests. "We're a full-service PEO, but our products are tailored to what clients want," Naylon says. "Every client has different needs, so we need to make sure we have products for all of them."
'Anybody who's been an MBA student in the last 20 years has had one commandment hammered into them: If it's not your core business, outsource it.' Pat Cleary, National Association of Professional Employer Organizations
Weathering challenges
Integrity Employee Leasing got its start after a devastating hurricane, and it has gone through other tough times over the years. So it drew on its experience surviving challenges like the 2008-2010 recession to help its clients navigate the COVID-19 pandemic. "We felt the same pain clients felt," Naylon says. "We're all tied at the hip."
The company quickly began educating itself on the new landscape and reached out to local experts who could help its clients navigate the complexities of things like SBA funding. It helped clients through the PPP loan process, connecting them with resources and advocating for them at local banks.
Because so many of the company's clients were able to successfully get PPP loans, everyone has been able to weather this new storm so far. "We've had maybe the best retention we've ever seen in the history of Integrity," Naylon says. "In Q3 of 2020, we ran more payroll than we did in Q3 of 2019. That's a direct result of businesses adjusting to the crisis and leveraging our help."
As Integrity continues to navigate through the pandemic, it's also looking ahead to 2021 and beyond. And the challenges of the past year could lead more businesses to consider turning over HR functions to a PEO.
"Just because you're a business owner or entrepreneur, it doesn't make you an expert in every facet you're required to deal with," Hensley says. "That is where the expertise and hundreds of years of experience represented here at Integrity come into play for business owners. We can take pressure off of them that they didn't even know they were going to experience. We literally stand between the client's business and those ugly things they have to face because they're just the complexities of business."
And no matter how large of company Integrity becomes, it won't forget its humble beginnings. "We are never going to be too big to take care of a small business owner," Hensley says. "If you've got two employees, and you're just starting out, we're for you. And if you're a franchise owner, we can take on that volume of work as well. But we will never lose focus on where we began because that is really the key to our success."