Moving is hard. So much so that in surveys of life stresses, it's up there near the top, with divorce and having kids.
While it's just a mile, Harmar, a Sarasota-based mobility device manufacturer, is amid one of the biggest moves in its 23-year history in transporting its entire factory floor. Yet through a series of meetings, elaborate diagramming and intricate planning, in addition to eager-to-help employees, the company has — so far — avoided the major anxieties of such a ginormous move.
Office-based Harmar staff has been in the new facility for nearly a year, and later this summer the company plans to begin the heavy lifting part of the move: shuttling 40 tons of equipment from its current facility, 2075 47th St., to 1500 Independence Blvd. That's across U.S. 301 and into the back of the Northgate Center Business Park, a few miles north of downtown Sarasota. "It's a big move for a short distance," says Vice President of Operations Joe Ayette.
In addition to a major step in growth and expansion for Harmar, the process proves two other business principles, one old and one new. For the former, long-term planning is one of the best ways to eliminate worries. The company has planned the factory side of the move for nearly a year, with a series of meetings and mapping sessions, a what-goes-where dialogue. Crews, for example, will un-bolt several 10,000-pound machines and other heavy equipment, including three robot welders, from the old factory floor. They will then put them in place in the new place. "We have to make sure we put it all back in the same spot," Production Manager Gary Smith says.
'It's just as hard to move one mile as it is to move 100 miles. You have to be able to move all the pieces right, do all the things you need to do and still not miss on delivering great customer service.' Steve Dawson, Harmar 
On the other principle, prioritizing employee wellbeing has taken on an enhanced sense of purpose for many companies in the pandemic. The new factory, for starters, is a significant upgrade over the old place. That includes a new electrical system, lighting, ventilation and the addition of compressed air. The office side is bigger and wider, with more options, from additional parking spots to added bathrooms. "Our employees' happiness and comfort are extremely important to us," CEO Steve Dawson says.
The move, in total, will cost some $1.5 million. "It's just as hard to move one mile as it is to move 100 miles," adds Dawson, standing in the cavernous empty factory floor in late July, before the equipment phase of the move commenced. "You have to be able to move all the pieces right, do all the things you need to do and still not miss on delivering great customer service."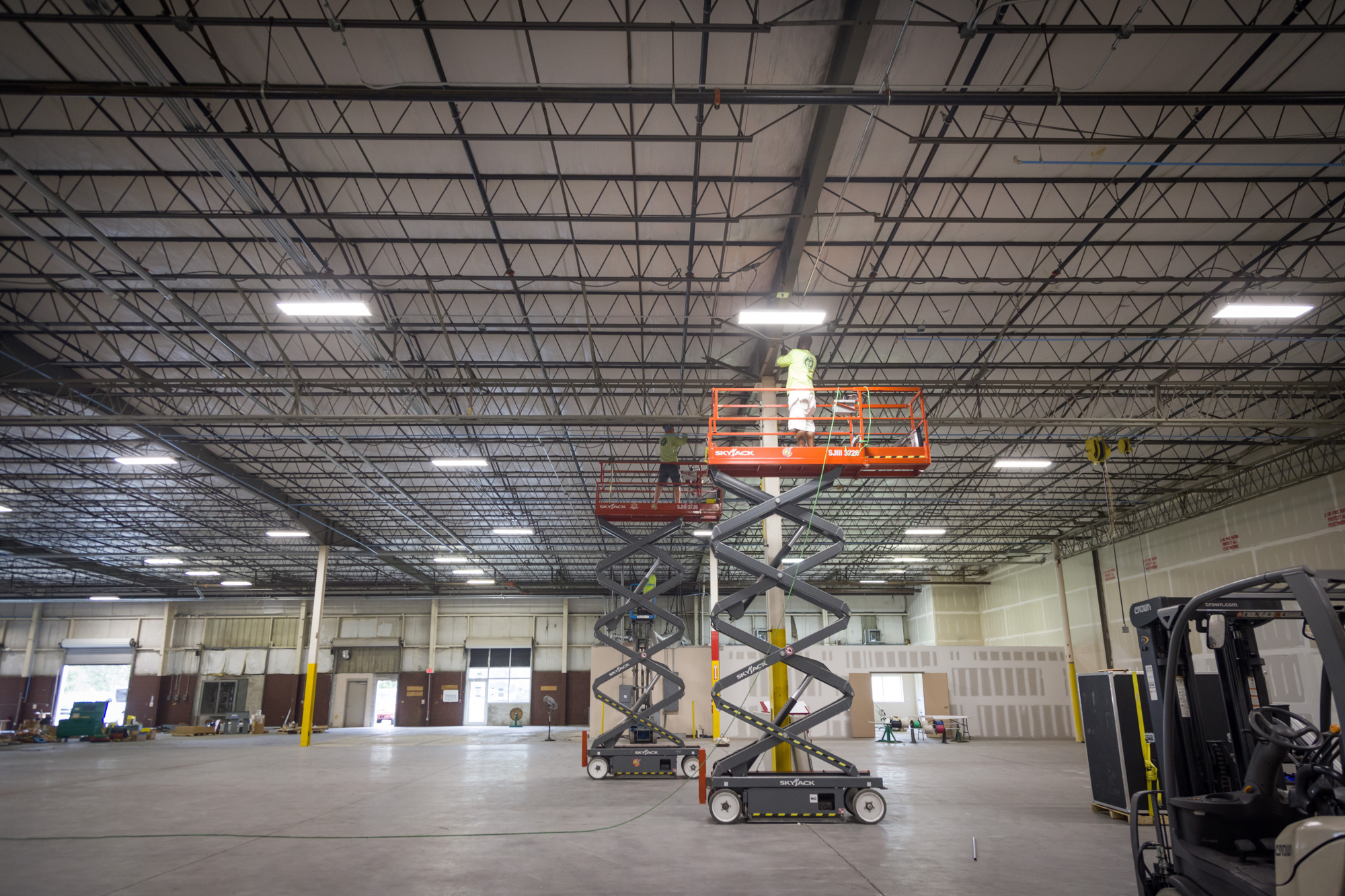 The Independent Boulevard facility, 225,000-square-feet in total, increases Harmar's manufacturing space by 44% and overall headquarters space by 60%. Ceiling heights on the factory side are about 25% taller than the old space, another big advantage.
Owned by New York private equity firm Cortec Group, Harmar has about 220 employees — having added some 25 people in the pandemic, a 13% increase in payroll. Its core lines of products are mobility device lifts for automobiles, stair lifts and residential and commercial vertical platform lifts. In Sarasota it manufactures its Helix Curved Stairlift; the AL100 Outside Vehicle Lift; and the Rubber Threshold Ramp. It operates a second facility in Lake Winnebago, Missouri, where it makes stair lifts and vertical platform lifts.
Significant growth
Harmar's roots go back to Sarasota entrepreneur Chad Williams, who acquired a small vehicle lift company called All Purpose Manufacturing in 1998. He renamed the business Harmar Auto Lift. Coretc acquired an interest in the company in 2012 and has since grown its ownership stake as the company added new lines organically and through acquisition. Harmar has maintained a solid growth track, including being named a GrowFL Top 50 second-stage company in 2020.
Officials decline to disclose revenue figures, though Dawson says sales have grown "significantly" in the pandemic, particularly as more people look to stay at home and require mobility devices.
Harmar sells its machines through a dealer network and to the federal government, and its mobility equipment is in all 50 states. "We sell more of our product to the federal government and the VA than anyone else in our industry," says Dawson, named CEO in 2016. He was previously general manger for another Cortec-backed business, CGI Windows & Doors Holdings, which Venice-based PGT Innovations acquired in 2014.
More options
Harmar first began exploring space options in 2019, both to meet demand and plan future growth. "We had people sitting on top of each other," Dawson says, "and not enough manufacturing space to do what we had to do."
Dawson, working with a broker, soon butted heads with a stubborn fact: Sarasota lacks when it comes to large-scale manufacturing and industrial spaces. The firm briefly considered moving a bit south or north, but with employees from Tampa through south Sarasota County, executives wanted to keep commutes roughly the same. "We use a lot of local suppliers and we didn't want to disrupt the supply chain," Dawson adds.
Inside, the goal was to build a better place than ever before for employees to be creative and have more room to work and collaborate. In addition to more manufacturing space, the new facility provides double the conference room space; more restrooms; extra room for departments to expand; a spacious training room for dealers and a photography and videography studio. And it gives the firm that other perk for employees: more parking. "We wanted to make something very welcoming," Dawson says.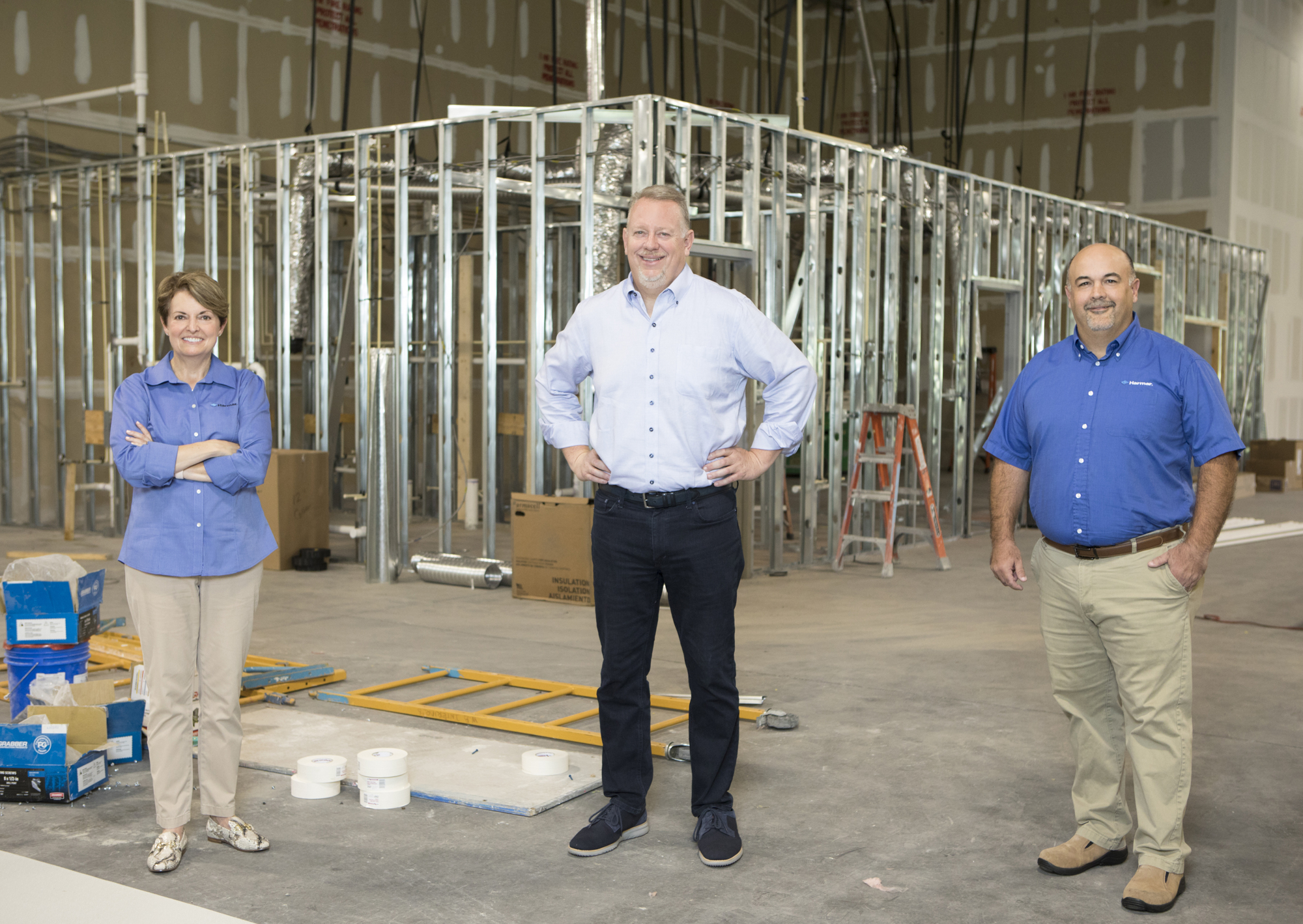 Another benefit to the new space, a former food distribution business? It was empty. That's a big plus in planning how to configure space. "I think it's a real luxury to be able to start from scratch in the new building and have a blank sheet of paper to design the facility we need," says Harmar Vice President of Marketing Sarah Puls. 
Moving the manufacturing side, Puls says, will be a set of mini-moves, one week at a time for five weeks. Crews of employees will get a section of the factory floor ready during the week and set up over the weekend. All together it will take about 50 truckloads going back and forth, officials estimate. 
A key to the planning side was meetings department heads held in the empty space, where teams mapped out what every part of the floor would look like. That work has become essential to making the move as smooth as possible. The goal, beyond getting into the new place safely, is to keep business humming. "We're not going to be shut down for a week," says Smith, the production manager, "just because we have to move."