Throughout spring 2020, Steve and Doris Colgate headed out to their dock with camera in hand to record a series of videos they called "Dockside Chats with Steve." For the co-owners of Fort Myers-based Offshore Sailing School, it was a way to both reminisce and stay connected with past and potential students when the couple couldn't be out on the water with them because of the pandemic.
Steve talked about stories from his racing career (which includes competing in the Olympics and America's Cup), handling mishaps out at sea, sailing tips and the couple's 57 years running the much-respected sailing school, which operates six resort-based instructional campuses in Florida and the British Virgin Islands. As the weeks passed, they spotted they weren't the only ones who enjoyed taking the helm of a boat amid the pandemic.
"One of the reasons we had to do those dockside chats early in the morning was to avoid the noise of all the powerboats going in and out of the channels," says Doris Colgate. "Boating has just taken off like crazy, and sailing took off with it."
Once lessons were able to resume in June 2020, Offshore Sailing School soon found itself in an all-hands-on-deck situation, as boating was a pandemic-safe outdoor activity people clamored for. U.S. boat sales hit a 13-year high in 2020 according to the National Marine Manufacturers Association, a trend expected to continue in 2021. Many of those buyers were first-time boaters and needed some help navigating their new pastime. Other people seized on the opportunity to learn a new skill where they could be outdoors.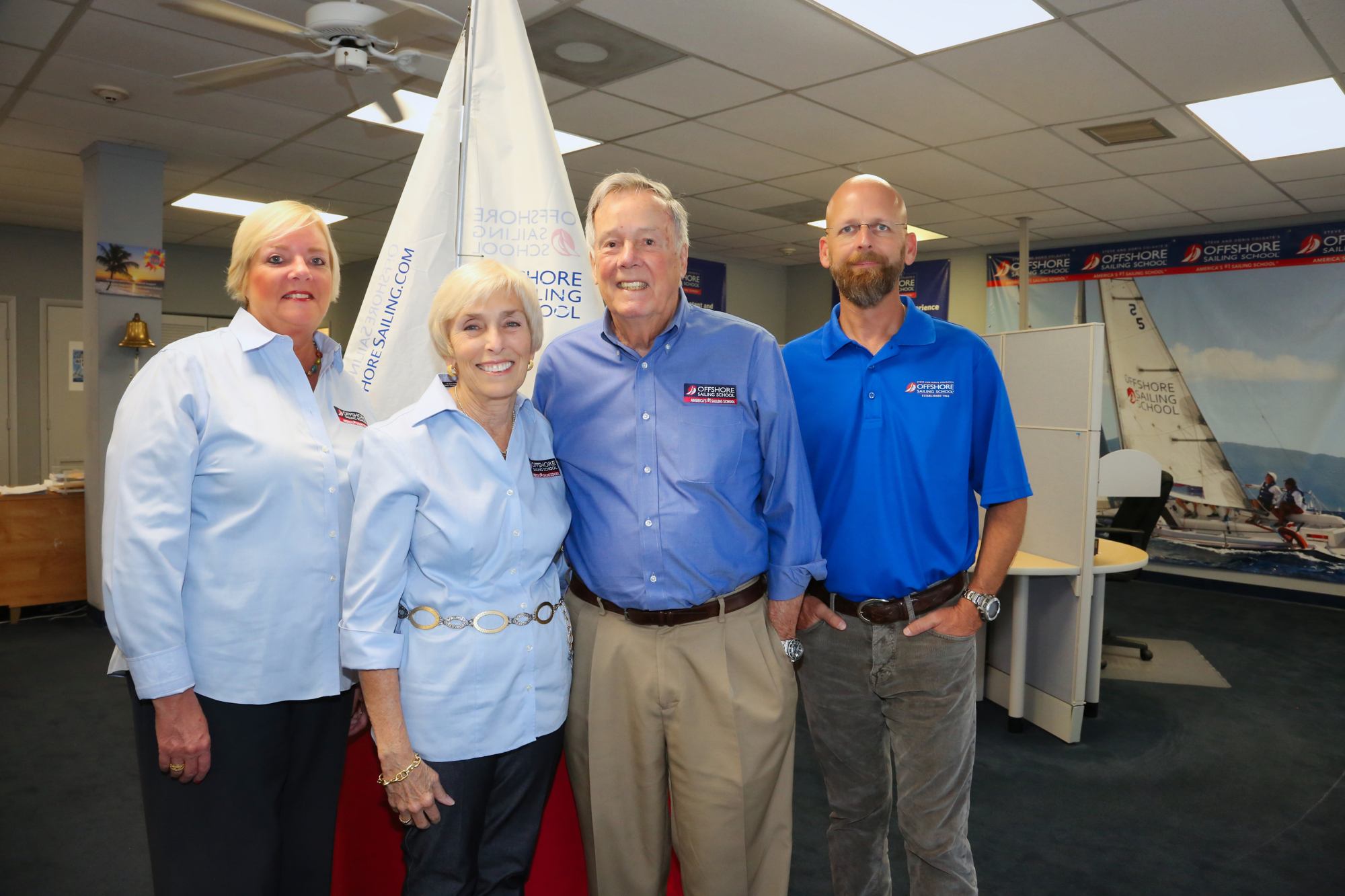 "In June 2020 we really hit the gas, and we have not slowed down since," says Bryce Jackson, Offshore's vice president, director of operations.
Customer levels have more than doubled from over a year ago, and those customers have been committing to multiday sailing and power-boating certification courses much faster than usual. Offshore Sailing School executives decline to provide specific revenue figures, only to say the company was poised for record-breaking revenues in 2020 before the pandemic hit — and it's back in a similar boat now. "Our revenue trend heading into the second half of this year and into 2022 really looks quite good, even better than pre-pandemic days," says Beth Oliver, vice president, director of sales and marketing for Offshore.
While activity at the sailing school shows little sign of tapering off, Steve and Doris Colgate are beginning to. The company recently announced the promotions of Jackson and Oliver into their new roles, in which they will take on more daily management duties. The Colgates will remain involved. But now they might finally be able to take a real vacation or two.
"We're not getting any younger," laughs Doris Colgate, 80. "Steve and I have been at this for so many years, and we'd like some personal time. And we know we have two very wonderful people in charge who can really handle the day-to-day running of this company."
Keep up
As Offshore Sailing School begins its transition into the future, it first has to make sure it can handle its current growth trajectory. One thing it's always looking for: qualified, skilled instructors. "We have been in hiring mode for a little bit over a year solid now," says Jackson.
'I think the challenge is to help Beth and Bryce figure out how to grow the company in the next year and feel very comfortable with making decisions. I still need to shut my mouth once in a while.' Doris Colgate, Offshore Sailing School
The company currently has between 30 and 35 instructors working at its six resort-based campuses. In Florida, it runs courses at four partner properties: South Seas Island Resort on Captiva Island, Westin Cape Coral Resort at Marina Village in Cape Coral, Pink Shell Beach Resort & Marina in Fort Myers Beach and Hampton Inn & Suites Downtown in St. Petersburg. In the British Virgin Islands, it partners with Scrub Island Resort, Spa & Marina on Scrub Island and The Moorings luxury yacht charter company and the Mariner Inn on Tortola.
One challenge? It can be tough to find people with the needed sailing or boating know-how, says Jackson, who can then teach that to others in a comfortable and effective way. And that's vital: The Offshore team can do everything possible on land to create a world-class sailing school, but if everything falls apart once students get out on the water, a carefully constructed curriculum doesn't really mean much. "Once that product leaves the dock, unless you've got the right instructor on board, it's for nothing," says Jackson. "So we do take a lot of care in how we select and how we hire."
That seems to be paying off. "Having graduated from Offshore Sailing School myself, I can say they do a phenomenal job of simplifying what can otherwise be fairly overwhelming," says Ian Pedersen, senior marketing manager of The Moorings, in an email. "Within a few days, you can go from not knowing a thing about sailing to having the confidence to handle a small sailboat yourself."
'We are risk takers. We're willing to try new things pretty quickly. I would say 90% of time they work, and 10%, yes, you get failure. But you just move on. We don't stay static; we keep trying new things.' Doris Colgate, Offshore Sailing School.
Offshore has partnered with The Moorings for many years. Many Offshore graduates go on to charter sailboats or yachts from The Moorings for on-the-water vacations. And when The Moorings clients need some extra education before taking command of a high-end boat, Offshore provides that training.
Marwan Haddad, director of hotel sales at Westin Cape Coral Resort at Marina Village, has witnessed how hands-on and adept the company's staff is. "What we see with Offshore Sailing School is that they are experts in their respective areas of watercrafts and sailing," he says. "The team members truly have extensive knowledge of what to offer for their guests."
One bonus for instructors is most positions are full-time. "When I started out, I felt very strongly that we needed to have full-time instructors," says Steve Colgate, 86. "That way we have someone who's company-oriented and loyal. We pay them whether they're teaching or not. I think that makes a big difference."
He also says Offshore's typical clientele — well-educated professionals in fields like law, medicine, aviation and higher education — wouldn't stand for a more loosey-goosey experience. "When they can take a vacation, they have to plan it well in advance," says Steve Colgate. "You can't say, 'Sorry, our part-time instructor wasn't available this week you're coming down; you'll have to try another week.' It doesn't work that way for most of these people."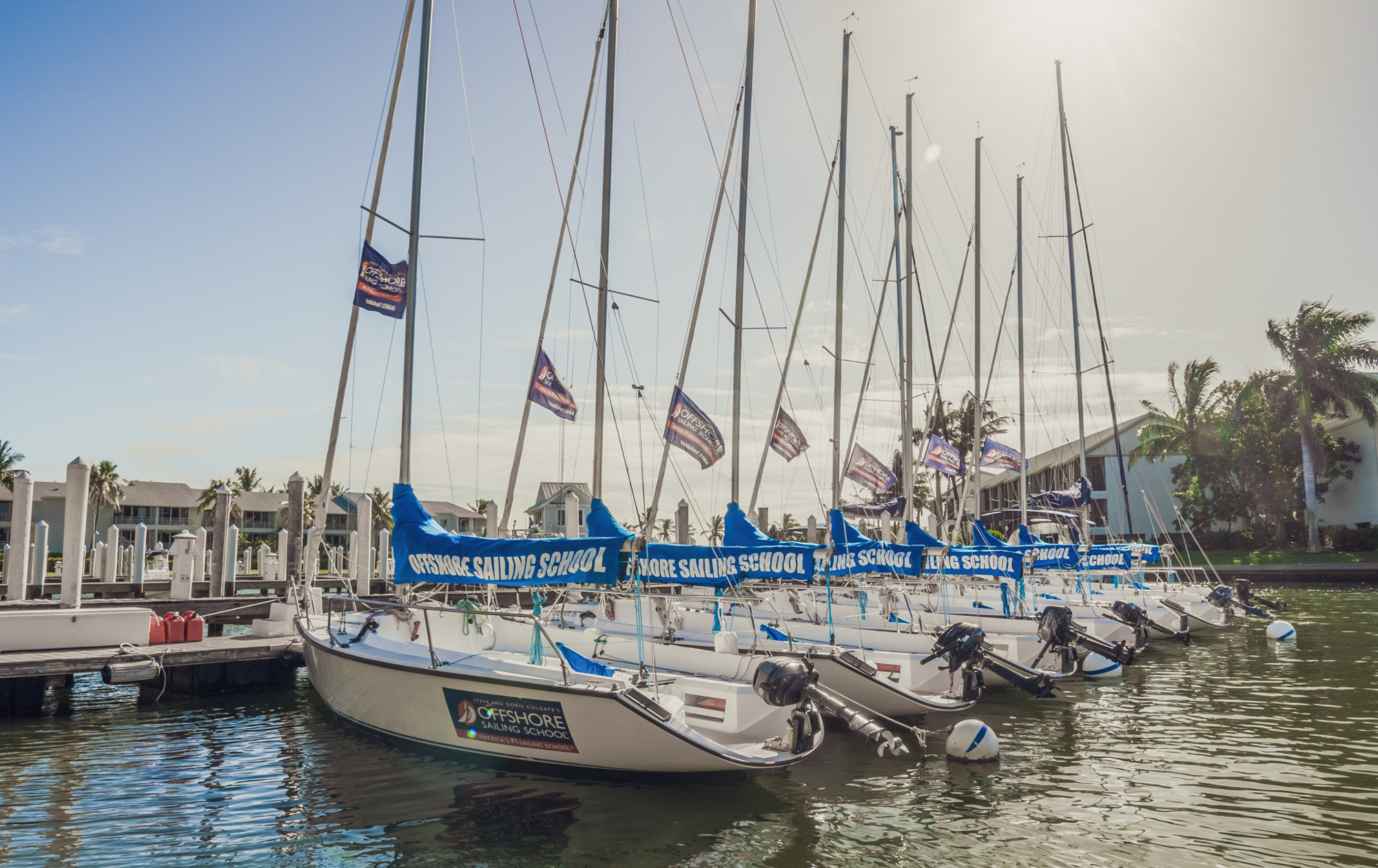 On the horizon
Offshore Sailing School has 10 staff members at its Fort Myers headquarters. That includes a dedicated sales team that allows instructors to focus on teaching.
As the Colgates pull back from day-to-day operations, Oliver, 58, and Jackson, 44, know they have a lot to live up to. "The difference between ourselves and nearly every other sailing school you might hear of is we have the same owners who have been active for 57 years and are the preeminent leading authorities on education in the boating industry," says Oliver. "They're recognized nationally and internationally. Nobody else has a Steve and Doris, thank you very much."
"They are living thesauruses and dictionaries and almanacs all at same time," adds Jackson. "The knowledge we can pull from them is amazing." (Some of that knowledge will also be hitting the pages in a new book about the Colgates, Offshore High, coming out soon.)
The Colgates realize that in order for the transition to be succeed, it will sometimes require they take a back seat. "I think the challenge is to help Beth and Bryce figure out how to grow the company in the next year and feel very comfortable with making decisions," says Doris Colgate. "I still need to shut my mouth once in a while."
Of course, the Colgate Way has worked pretty well. The couple sees their ability to adapt as a big reason for their success. "We're quick to change," says Steve Colgate. "We're quick to make a decision and move on to it."
"We are risk takers," adds Doris Colgate. "We're willing to try new things pretty quickly. I would say 90% of time they work, and 10%, yes, you get failure. But you just move on. We don't stay static; we keep trying new things."
The couple's true passion for sailing and boating has also helped them float to the top. "I think one of the key things is integrity," says Doris Colgate. "We're very well-known in the sailing and boating world as coming through with having one of the best products out there because we care. It wasn't to make money….We've been living sailing now for quite a few years, and we just have a really good reputation because we have always jumped in and done whatever it took to make something better and bring more people into the lifestyle."
Past customers appreciate those efforts and are often willing to share insight about their experiences and talk with potential students about the courses. "For how many companies does somebody put their hand up and say, 'Please contact me?'" says Oliver.
Oliver and Jackson know they have a strong legacy on which to build. "We're inheriting, so to speak, a situation that has the highest reputation and expectations for quality delivery," says Oliver. "So to live up to that every day is my mission. And the bar is high."