Harrison Ambs considers his leadership role at digital marketing firm Vectra Digital in the age of the coronavirus an opportunity created in chaos. To that end, he keeps a favorite quote of his from former Intel CEO Andy Grove at the front of his mind.
"Bad companies are destroyed by crises," Grove said. "Good companies survive them. Great companies are improved by them."
Ambs, the chief strategy officer of Vectra, says his goal, internally with the company's 15 employees and externally with clients, is to get to and maintain that level of greatness. That goes for the pandemic and long after it. The key to doing that over the past six months, he says, has been to hyper-focus on two elements of the company's culture: communication and processes.
That's what was going through his mind in the early days of the pandemic back in March, he recalls. He was in the company parking lot, helping some employees pack up cars with stuff from their desks. Everyone was going to a remote work protocol, and Ambs and other senior leaders at Vectra had some anxiety that productivity would suffer. But, like several other companies, the opposite happened: Vectra, while missing in-person camaraderie with employees and clients, got more done. "We relied on our processes and systems," he says, "and it all held up."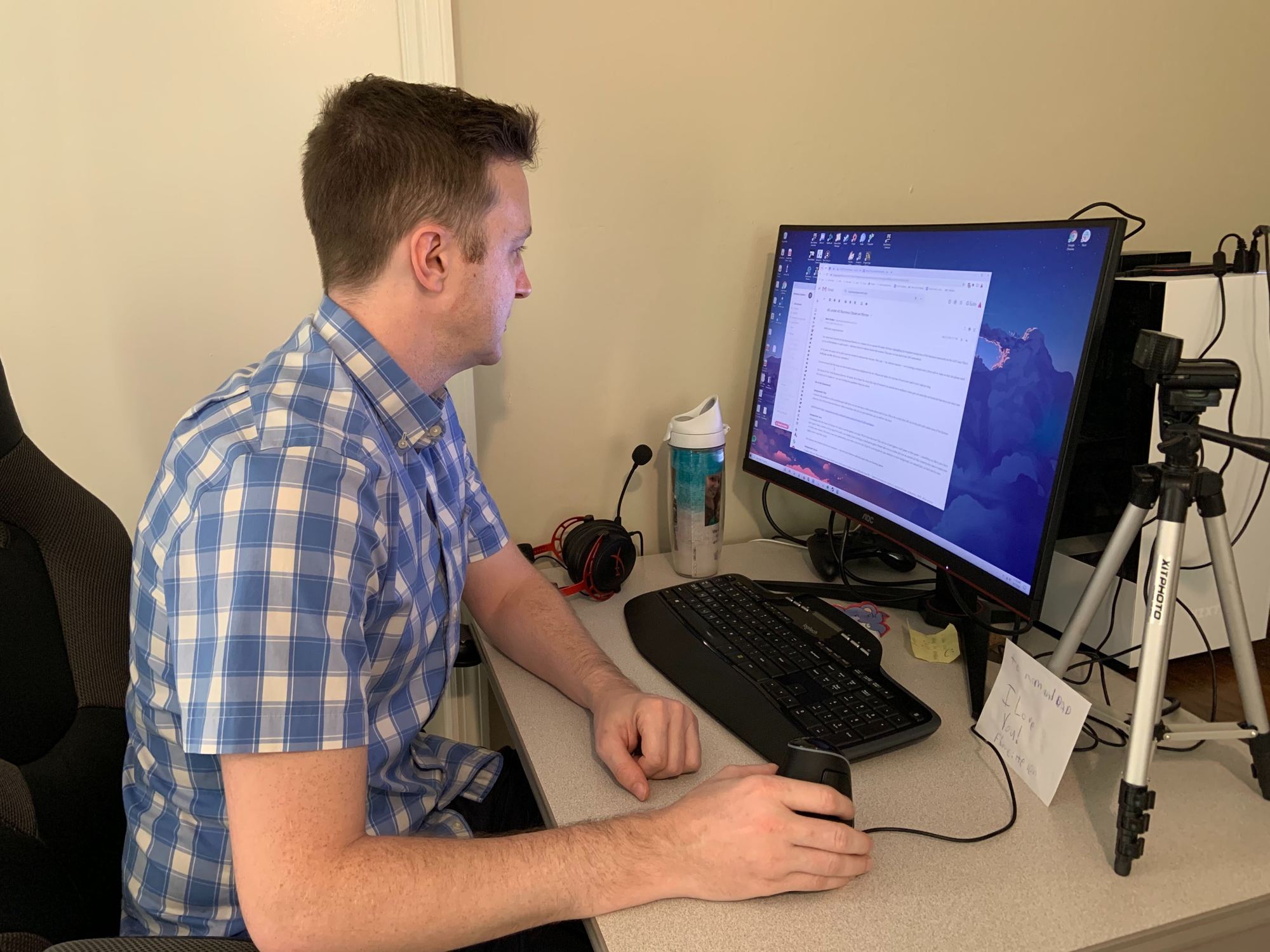 Ambs began his career at a Cleveland TV station — with no college degree — where he worked in graphic design and taught himself other technology. He relocated to Southwest Florida in 2011 and joined Stickboy Creative, a Vectra sister company, initially as creative director. In 2016, working with Vectra and Stickboy co-Founder Matt Bernhardt, Ambs led the way on what's now Vectra's biggest differentiator in the digital media and marketing sector: using artificial intelligence to build better and more effective digital marketing campaigns for clients. The company does that through its AI tool Ambs helped create, Ada. Clients using Ada include national retail chains and franchise operations. (Bernhardt was a Business Observer 40 under 40 winner in 2017.)
Beyond Ada, Vectra Digital can handle everything from website design to organic search to online reputation management for clients. Doing all that, with the ultimate goal of helping clients get a better return on investment in digital marketing dollars, continues to be Ambs' biggest motivator. "I love knowing I can keep helping these businesses," he says.
GAME STATS
Employer
Vectra Digital
Title
Chief strategy officer
Birthplace
Cleveland, Ohio
Years on the Gulf Coast
Seven
Marital Status/Children
Married with three kids
Alma Mater/Degree
No degree
What community group or organization are you most involved with?
Ronald McDonald House
What's the weirdest job you've ever had?
Videographer filming medical device testing on cadavers
What's your top tip for being productive?
Effective time-management and setting priorities. A lot of time "busy" just means "I don't know what needs to be done first" or "I don't know what's most important." Being able to prioritize items and set aside time to do those items does wonders for my productivity. Taking 10 minutes to write down a list of what has to get done then prioritizing it can make any following time productive.
If you could have a side hustle, what would it be?
Podcast or video show about the NFL
What's your favorite off-hours activity?
Woodworking
What's your favorite board game, game show or video game?
Stardew Valley, being able to unwind with a game that doesn't ask more of you than you want to give is great.
What's your go-to delivery service? (DoorDash, Uber Eats, GrubHub, Bite Squad, etc.)
None, I do curbside pickup. I barely get to drive my car as it is!
What do you use most — Zoom, Skype, Microsoft Teams or Google Meetings?
Google Meetings
What's the best binge-worthy show you have enjoyed during the pandemic?
Cooking shows on YouTube: "Binging with Babish," Adam Ragusea, J. Kenji Lopez-Alt, Josh Weissman — a lot of them.
What's the longest virtual meeting you've been on since mid-March?
Two and a half hours
How many times had you used video for a work meeting prior to the pandemic?
Pretty frequently. We have a clients and contacts all over the world.
What's the most important lesson you've learned during the pandemic?
Andy Grove, who used to be CEO of Intel, once said "Bad companies are destroyed by crises; good companies survive them; great companies are improved by them." Our company culture is built around communication and processes. So now a skill that we had already been using in the forefront daily, being continually refined, is getting even more of our focus. We can see it in our numbers; having these two things be the core of everything we do and relying on them through this pandemic have allowed our company to not just survive but actually become greater.
What do you miss most about the world pre-pandemic?
In my personal life, date night with my wife and taking my three kids (7, 5, and 3) places — parks, museums, restaurants, etc. At work, I miss the in-person collaboration and brainstorming sessions we would have in our conference room. A lot of energy and ideas fly around a room when you get going. Although we're able to do it via a video call, it doesn't have the same excitement as in-person in front of a whiteboard.
What have you been spending more time doing during the pandemic?
I've been spending more time reading, both Stoic philosophy and business literature. I've long adopted tenants of Stoic philosophy into my life, and it's helped a lot with stress and seeing things clearly. I've also been catching up on some business books I've been putting off. Plus an almost insane amount of cooking.
Do you prefer working from home or working from an office?
They're equal for me now. I enjoy being able to take five minutes to see my family in the middle of the day, but I love being able to focus at the office.
How have you kept up camaraderie with colleagues during the pandemic?
It's interesting, but almost immediately after everyone at the company started working from home, everyone started saying "Good morning!" in our general Slack channel each day. So now every morning is filled with the entire team greeting one another virtually when they start their day — whether it's an emoji, GIF, meme, just text, etc. It's nice to start your day with little messages from your team excited for the day and saying hi. It might seem small at first, but it's one of those little things that brighten your day when you first sit down.
What's the first thing you'll do after the pandemic?
Definitely take my family to Disney.