There was a time when hydroponic farming seemed almost futuristic, like flying cars or underwater houses. But not anymore. The future is now for hydroponics.  
Hydroponics, which involves growing plants without soil, is becoming more prevalent, including with Lakeland-based grocery giant Publix and the company's GreenWise Market stores that sell organic, natural and specialty groceries. Publix operates GreenWise stores in Lakeland, Tallahassee, Boca Raton, Ponte Vedra and Odessa as well as in Mountain Brook, Ala., and Marietta, Ga. It closed two GreenWise stores in South Carolina in late August, citing the locations' space constraints, but it plans to open a store in South Florida in the fourth quarter.
Publix and GreenWise are biting in to hydroponics in some big ways, hoping it pays off with customers seeking fresh, local products.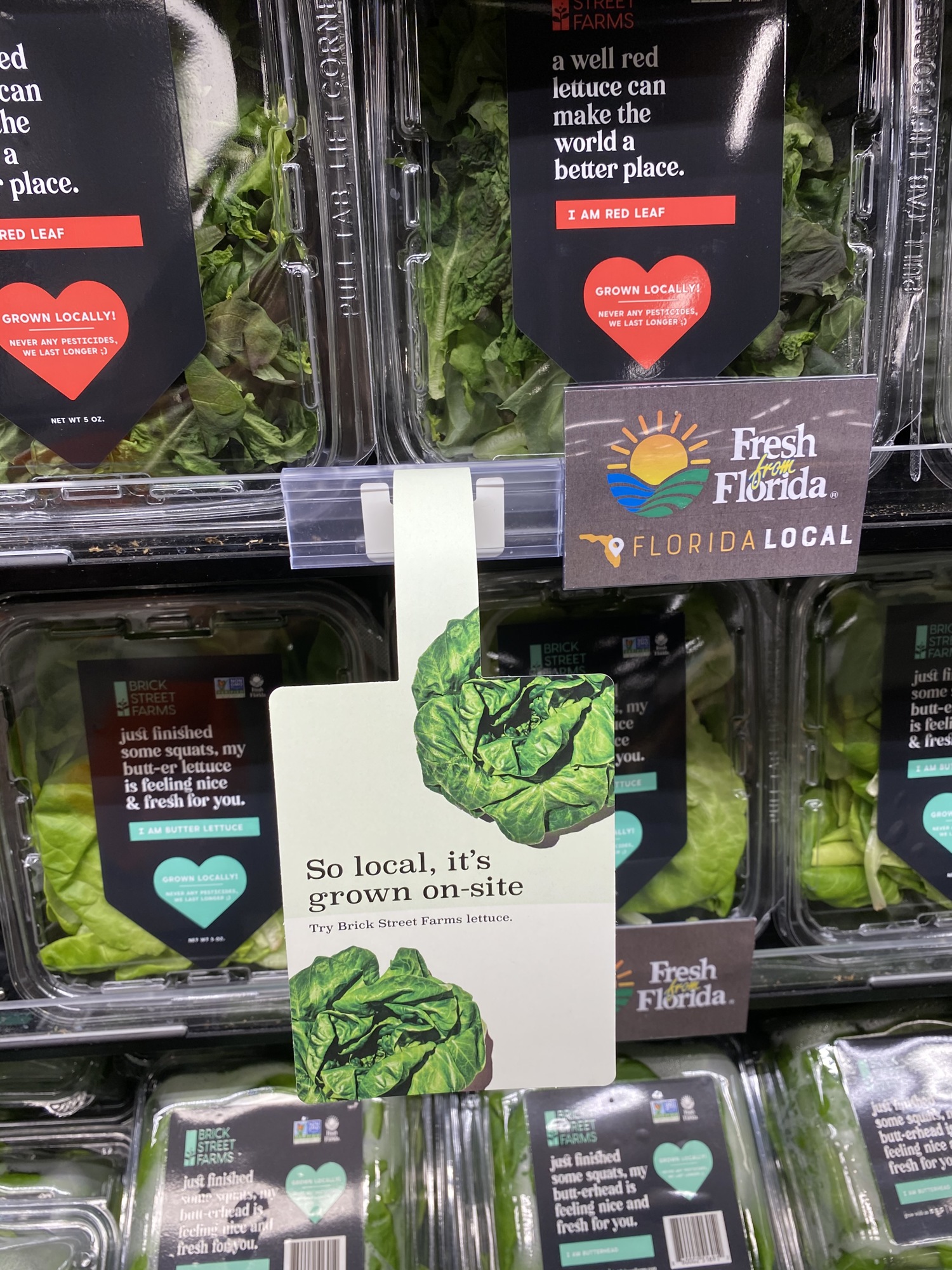 In one major move, the company installed a 40-foot hydroponic container farm in front of its Lakeland GreenWise store. The container, added at the beginning of March, uses mineral-rich water instead of soil to grow lettuce plants. Publix partnered with St. Petersburg-based Brick Street Farms on the initiative, a good fit because of Brick Street's focus on quality and sustainability efforts, Publix Business Development Director for Produce and Floral Curt Epperson says.
One key feature of the container is a viewing window on the side that allows people to see the plants growing. Along with showing off the growing process to customers and store employees, GreenWise also wants to use it during educational tours for schoolchildren. The image of the fresh product is key, Epperson says. "You have a good visual of farming at its best inside a container," he says.
The hydroponic farm is near an outdoor sitting area, encouraging people to mingle and see what it's all about. "There's certainly been some interest in that," Epperson says. People are also attracted to the system's sun-emulating lighting. "It really has an iridescent grow to it," he says. "It draws you in to the container. It's hard to walk by it and not say, 'What is that?'"
The lettuce, which takes about five weeks to grow, is harvested right in the container. GreenWise has a grower on site who works with Brick Street and harvests the product three days a week, amounting to about 720 heads of lettuce each week. The same day it's harvested, the lettuce is taken into the store to be sold. "It really brings a new level of freshness and sustainability to the customer," Epperson says.
Sustainability can be a key selling point for consumers who are becoming savvier and more knowledgeable about where their food comes from. Because the lettuce from the hydroponic container only has to travel mere feet to end up on store shelves, the product uses fewer resources and has a reduced carbon footprint.
Customers are already responding well. The lettuce grown in the container has done well at the store, Epperson says, and currently, all of it is purchased at that location. Once the lettuce is harvested, more is planted, continuing the cycle.
Other GreenWise stores are getting in on the hydroponic action, too. Brick Street, for instance, is providing lettuce for other locations. Publix has also worked with South Carolina-based Vertical Roots on a mobile hydroponic farm that it brought to stores, giving people the chance to walk inside the farm. The mobile educational tool is on hold during the pandemic, but it's expected to come back. "It's really just a cool opportunity to bring the farming concept to the customers," Epperson says.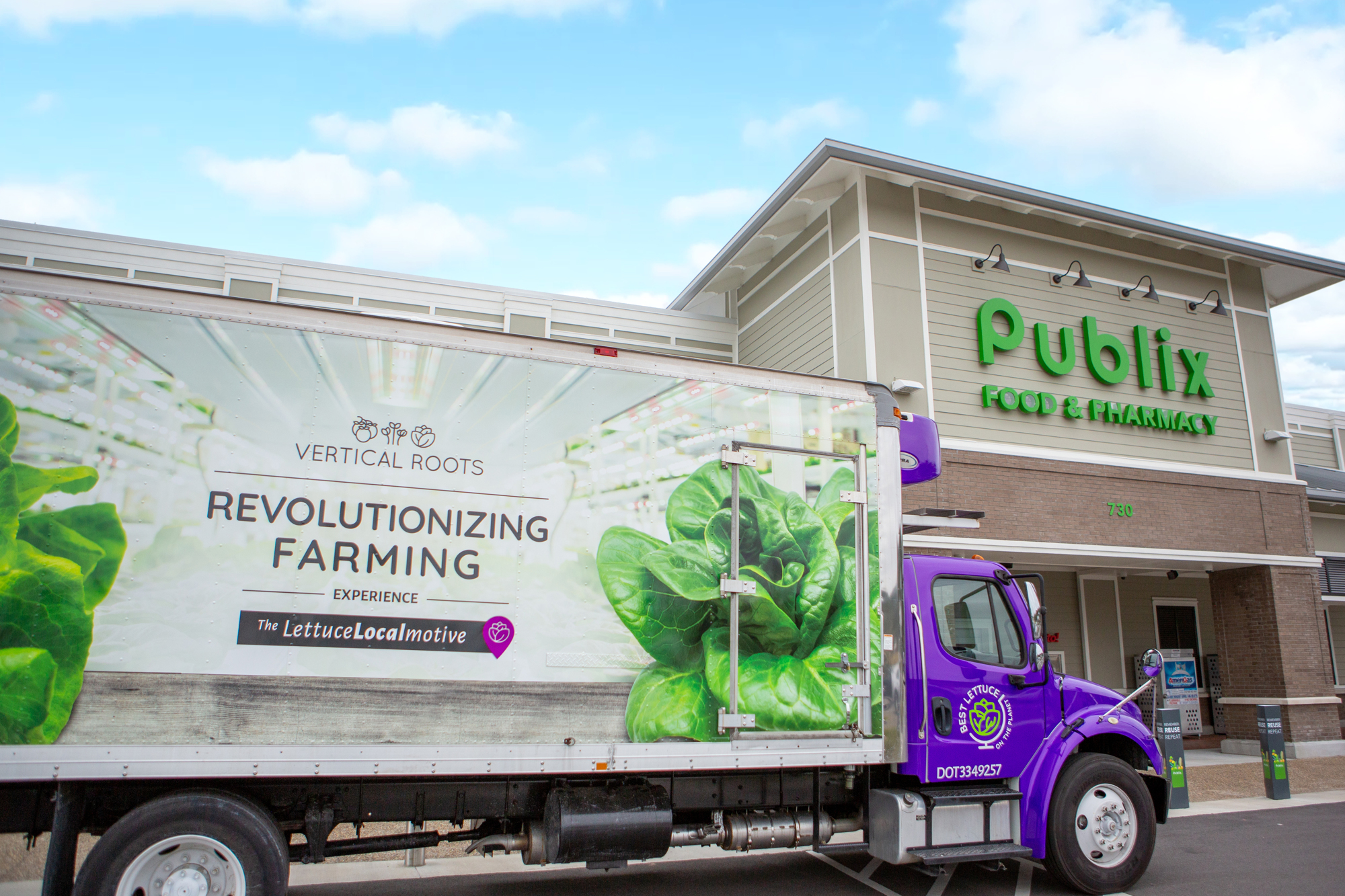 In another hydroponic effort, Publix has partnered with vertical farming company Kalera to distribute the lettuce it grows hydroponically in Orlando.
Other crops might be involved in the future as well; growers are working on expanding beyond lettuce. "Each of these growers are looking at other ways to grow other commodities," Epperson says. "I think you'll see more trials into tomatoes, cucumbers and peppers going forward."
Epperson says Publix is working with more hydroponic growers, too, in states including Florida, Georgia, South Carolina and North Carolina. "Every day, we're out sourcing product," he says. "It's a great way to support communities that are supporting the growers and us. It's great for the customer, great for the grower and great for Publix."