The service at The Ritz-Carlton is legendary. And that's exactly where Juan Diego Vasquez honed his customer service skills.
Vasquez worked at The Ritz-Carlton, South Beach in Miami as a front desk agent for one year. Then he transferred to The Ritz-Carlton in Naples, where he grew up, and worked there for three years. He served as a concierge and later a Club Level concierge, working with VIP guests. The positions allowed him to navigate a variety of situations and learn how to go above and beyond for guests. "It gave me a lot of knowledge about people relations," he says.
Vasquez started with office furniture firm OFDC Commercial Interiors in January 2016 as a trainee in sales. He spent two years as an account executive in Fort Myers and is now going on his second year as an account executive in Sarasota. The Fort Myers-based firm posted $30 million in sales in 2019.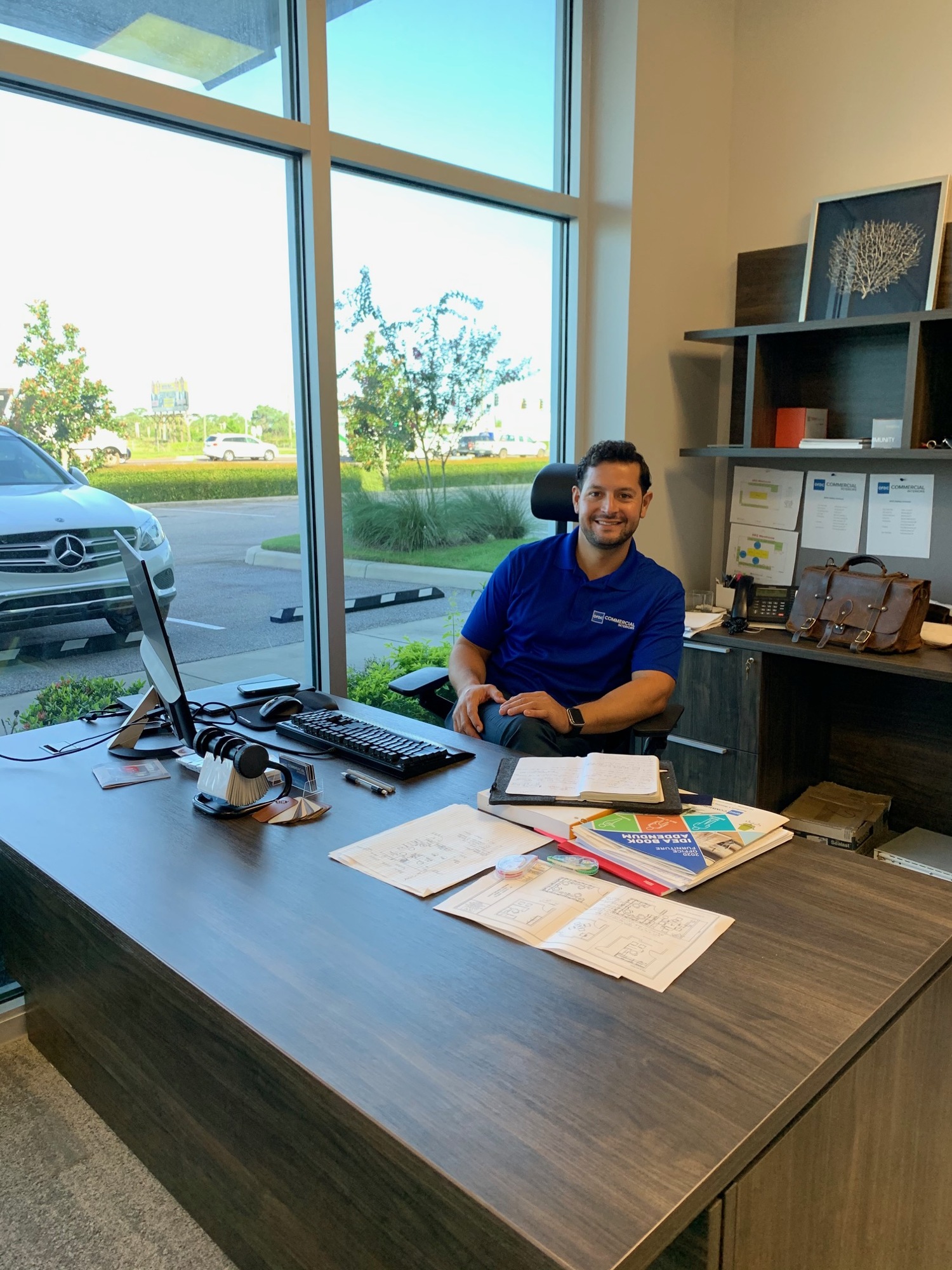 Vasquez handles business development for the company, regularly attending events as a representative of the firm. His goal? Make OFDC the company people call with their office needs. "The most challenging part is being the new guy in town and earning people's trust," he says. "You just have to be relentless and patient."
That persistence has paid off. Under Vasquez's leadership, OFDC's Sarasota office has grown sales 100% over the past two years.
Vasquez's workday is a mix of phone calls and emails with clients, lunch meetings, seeking out prospects, putting together quotes for clients, communicating with the OFDC design team, coordinating the receiving of products at the company's warehouse and being on site for installations. "Every day is different," he says. "Every day is full of activities. I rarely have a day that's nothing but office work."
During the pandemic, OFDC has been at the center of work habit shifts at area companies. Some are encouraging employees to set up home offices while others are reconfiguring office spaces for social distancing. Vasquez is helping firms make permanent changes as well as create temporary solutions.
Because of the coronavirus, OFDC had a tough March, April and May. "We spent our time reaching out to clients to see how they were doing," Vasquez says. "We were all looking forward to 2020 when this happened." Since those early months, suppliers, lead times and client work have normalized more for the company.
In the future, one of Vasquez's career goals is to run his own successful business. "If I can grow my own baby, if you will, I would love to do that sometime in my life for sure," he says. "Until then, I'll keep learning and trying new things."
GAME STATS
Name
Juan Diego Vasquez
Age
31
City of Residence
Sarasota
Employer
Office Furniture & Design Concepts
Title
Account executive – Sarasota
Birthplace
Piura, Peru
Years on the Gulf Coast
16
Marital Status/Children
Single
Alma Mater/Degree
None
What community group or organization are you most involved with?
Big Brother Big Sisters
What's the weirdest job you've ever had?
First job: waiter at Steak n' Shake in Naples at 16 years old
What's your top tip for being productive?
Start your day early. I mean preparing the evening before. I look at my calendar and make sure I have everything I need for the next day. Then I wake up at 5 a.m. and go to the gym, so I get it out of the way and start the morning feeling accomplished.
If you could have a side hustle, what would it be?
Real estate and stock market. It's still very much a possibility.
What's your favorite off-hours activity?
Spending quality time with friends and family
What's your favorite board game, game show or video game?
Risk for board game. Most RTS video games.
What's your go-to delivery service? (DoorDash, Uber Eats, GrubHub, Bite Squad, etc.)
I use them all.
What do you use most — Zoom, Skype, Microsoft Teams or Google Meetings?
Zoom and Microsoft Teams for business and Whatsapp with family
What's the best binge-worthy show you have enjoyed during the pandemic?
I'd say "Schitt's Creek." Still watching it.
What's the longest virtual meeting you've been on since mid-March?
Business meeting, two-and-a-half hours, too long. Family, I don't keep track.
How many times had you used video for a work meeting prior to the pandemic?
Not much really. I preferred to have face-to-face meetings. Boy, have times changed!
What's the most important lesson you've learned during the pandemic?
Stay in touch. Some people have had it a lot tougher than others. Financially, emotionally, physically and socially. In my industry I have had to talk to vendors in New York who could not leave their place for weeks or months. It has been nice to be able to talk to them or even see them through a Zoom call.
What do you miss most about the world pre-pandemic?
The feeling of being around lots of people, whether it's a business meeting, family gathering or a concert and not having to worry about anything.
What have you been spending more time doing during the pandemic?
Talking to my family in the U.S. and overseas. Discovering new music.
Do you prefer working from home or working from an office?
I like a mix of both. It is really comfortable to work from home, especially on those days that you have a millions errands to run. But having an office to go to without the distractions from home is nice as well.
How have you kept up camaraderie with colleagues during the pandemic?
We use to meet one month, physically at our HQ in Fort Myers. Now we have zoom meetings every week, twice a week, and we talk about everything, not only about projects but also what we see out there in our world, our clients, our families and anything that we can share to help each other out.
What's the first thing you'll do after the pandemic?
Travel overseas. First to see my mom, sister, brother-in-law and nephew in Peru and then to go on a vacation with my girlfriend. Destination is TBD.