Look around the corner.
That's what PPi Technologies Group CEO R. Charles Murray says is his favorite expression. "I'm always trying to be worrying about what's coming up," he says.  
Murray's eye on the future has helped the Sarasota-based company succeed and grow in recent years to a firm with 80 employees and $46.4 million in revenue in 2019. It has grown almost every year, and in the past decade revenue is up 170%, from $17 million in 2010. 
The company sells packaging machinery and is an industry leader in stand-up pouch packaging. It also offers several consumer products, ranging from alcoholic beverages to wellness items, and provides contract packing services. Each of the 18 rooms at the 110,000-square-foot facility in the Northgate industrial park, north of downtown Sarasota, is dedicated to its own product. The company also owns two other properties.
Today, with 75-year-old Murray at the helm, the diverse company is focused on innovation and consumer needs, always with an eye to the future. That approach has paid dividends for the company, including during the coronavirus crisis. In some ways, the company was better positioned for the pandemic than others because Murray shrewdly anticipated demand. 
The company, for one, has used the liquor license from its Redi-2-DrinQ Group to make hand sanitizer during the pandemic. Murray sees particular promise ahead in the hand sanitizer the firm produces in vial packs that break open for individual use.
He also says the company is seeing more interest in single-serve pouches, a result, he thinks, of more people staying home and cooking. Cheese in pouches, for one, has seen a greater interest recently, perhaps because people are making pizza and other simple meals at home.
Redi-2-DrinQ has seen an uptick in interest lately too. It's another possible result of people spending more time at home — and the pandemic giving people a few more reasons to enjoy some wine or a ready-to-drink cocktail.
The company's wellness subsidiary, Penta Five USA, is also doing well. Beyond hand sanitizer, it includes mosquito repellent products, sunscreen, Canadian hemp seed and drinking water infused with hydrogen.
For each arena PPi Technologies operates in, Murray's habit of looking around the corner has served the company well in the past and during the coronavirus crisis.
Innovate and Elevate
There's a key question Murray asks himself — simple but powerful — to guide his work: "How can I help people?"
His goal is to find ways to improve people's quality of life through the products his company makes. He does this by thinking about what could be the next harmful impact on people, such as, say, the coronavirus, or what might be the next helpful idea. Then he thinks about how addressing one of these ideas could help the company grow.
"You've got to keep people interested. They have to understand the product and how it fits into their life." — R. Charles Murray, PPi Technologies Group
One thing Murray, a South Africa native who moved to the U.S. in 1990, is never short on is ideas. And he has more than 100 patents to prove it. His innovations come on several fronts with a variety of products, including packaging, machinery, food handling and delivery systems.
Five years ago, for example, bringing cheese in a stand-up pouch to the dining room table was a different concept, Murray says. Now it's commonplace on tables across the country. It's a result of asking the question, "How do I take old-fashioned 50-year-old cheese and make it easy to use?" he says.
The principle, Murray says, is crucial for CEOs who want to grow their companies. "You've got to keep people interested," he says. "They have to understand the product and how it fits into their life."
Murray, with a bachelor's degree in chemistry and a Master of Business Administration in marketing, has built part of his business on the premise of helping other companies that also want to innovate. "We're packing products for huge Fortune 500 companies," he says. When he hears from a client, "'We used your patents, and we got three extra months of shelf life on the product,'" he considers it a compliment.
Sarasota-based skin innovations and wound repair company Omeza is one of PPi's contract packing customers. Omeza Founder and CEO Thomas Gardner says Murray provided space for Omeza to get started at the PPi facility. Now PPi is the manufacturer of record for three Omeza products, with manufacturing and packaging done in a 20,000-square-foot space within PPi.
Gardner, whose career includes time at Procter & Gamble, Johnson & Johnson and as CEO of six different companies, has been working with Murray for about three years. "He's an inventor in his own right beyond being a CEO," Gardner says. "He's always working on something that, frankly, I would have never thought of."
Gardner points to one skill in particular as being helpful to Murray's entrepreneurial success. "I would say he has a bias toward action," Gardner says. "He is able to surmount obstacles and challenges in an expeditious way."
Gardner observed this recently when Murray used the company's license to manufacture alcoholic products to jump into the hand sanitizer space during COVID-19. "He was able to marshal his resources very quickly," Gardner says.
Murray has also been successful, he says, because of a trait often associated with high-performing businesspeople — focus. "He has a high level of energy that's very focused on health and wellness and innovation," Gardner says. "He's a gem. He's one of the most entrepreneurial CEOs I've run across. He's dedicated to taking care of his employees in addition to taking care of business. He's running a global business out of Sarasota."
Like Family
With so many innovations and products falling under the company's banner, productivity is crucial. Murray points to a similar trait to what Gardner recognizes in him: He's able to get done what he needs to get done by focusing on a goal. "You've got to have an end goal for whatever you tackle," Murray says. "Gear everything to get to that goal."
In addition to being goal-oriented himself, Murray has built a team at PPi Technologies dedicated to the same mission.
Murray's daughter, Sandra, is vice president of marketing and vice president of Redi-2-DrinQ. She has been with the company for 23 years. Her first role at PPi was taking lunch orders. "We all had to work our way up," she says, adding her father is strict about that.
Murray works with seven family members in total, including Sandra; his son, Stuart, who is president; along with three nephews, a sister-in-law and a grandson.
Sandra Murray says even before working for the company, she was learning about business and entrepreneurship from her father. "We used to have a joke that we went to a picnic, and my dad came in a suit with a briefcase," she says. "He lives, eats and dreams his companies. He's an entrepreneur first, but right alongside that he's a family man."
He also treats his employees like family, Sandra Murray says. Every employee knows who he is, from workers in the production room to the shipping department. And everyone, including members of the maintenance and cleaning staff, calls him Charles. "There's a sense of pride in the staff when they see him," she says. "There is no job he wouldn't do himself."
He's also big on encouraging employees to interact with one another. PPi has areas at its facility for specific activities, including a miniature golf course, table tennis and a bistro with a coffee machine. Sandra Murray says after a two-hour meeting, her dad might tell staff to go play some golf. "People need to maintain team spirit," she says. "By encouraging coffee in the bistro or a game of pool, it encourages the company to work as a team. That's so important."
As a result, the company enjoys a low turnover rate and employees willing to come in on weekends and evenings without being asked if there's an important order to fill. "He has instilled that," she says of her father.
Around the Corner
Charles Murray has also developed a passion for sustainability. "I'm very concerned with the environment," he says. "We've developed a system with UF where we can take plastic, burn it at a high temperature and use it for electricity." 
The company has a sustainability program called SECAMP, an acronym for Sustainable Environmental Conscious Approach to Machinery Pouches. It's a six-point strategy to use less energy, use fewer packaging materials and reduce costs.
Although Murray is working on solutions that will impact future generations, his interest in innovation began decades ago. 
"I would hear stories from when he was a small boy," his daughter says. "He was always reinventing the wheel." He's the kind of man who will consider something and have ideas come to him, she says. Then he'll start drawing up a solution. Three months later, he'll have a product to show for it. "He's a true scientist," she says. "As an entrepreneur, he is spot on, but much of his stuff has a scientific approach behind it."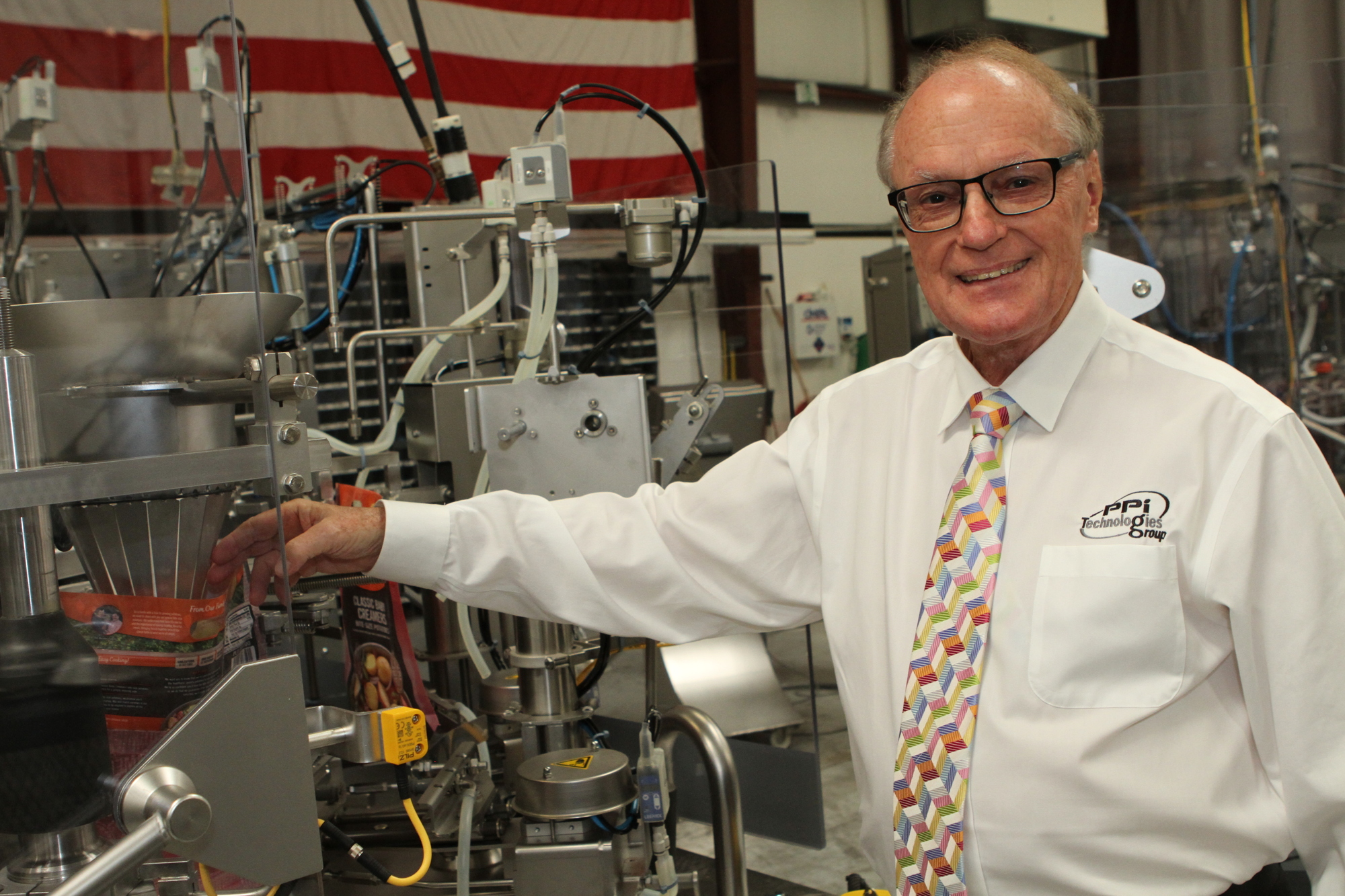 Today, Murray is running the wellness side of the business with three people he's training below him. But it's not because of any retirement plans. "He is the captain who will never leave the ship," Sandra Murray says. "There is no retirement in place for him. He will continue until he takes his last breath."
What drives him to keep going, she says, is his passion and thirst for knowledge. He's big on keeping up with technology and believes in the importance of reading. "He is constantly learning and constantly reading," Sandra Murray says. "At Christmas, he wants books."
From the environment to the coronavirus to consumer packaging needs, Charles Murray is constantly looking for new approaches and thinking about what might be around the corner. "That keep-informed approach," Sandra Murray says, "is really the secret to his success."