SARASOTA — Real estate tech firm PropLogix, one of the fastest-growing businesses in the region, will soon have a new headquarters — and in moving, the firm, and its 175 employees, will leave downtown Sarasota.
The company's new space will be in the former IntegraClick building in north Sarasota County, which, a decade ago, was home to another uber-fast growing tech company, Clickbooth. When Clickbooth, an online affiliate marketing firm and former subsidiary of IntegraClick, moved into and renovated the building in 2009, the changes included adding a spacious arcade and game room, full kitchen and an orange spiral slide from the second floor to the first. PropLogix will now get to utilize those features. IntegraClick, when the firm last disclosed revenue data, in 2009, did $120 million a year in sales. Clickbooth, a cost-per-action online marketing firm, remains in operation, from an office in the Gateway Professional Centre in Sarasota.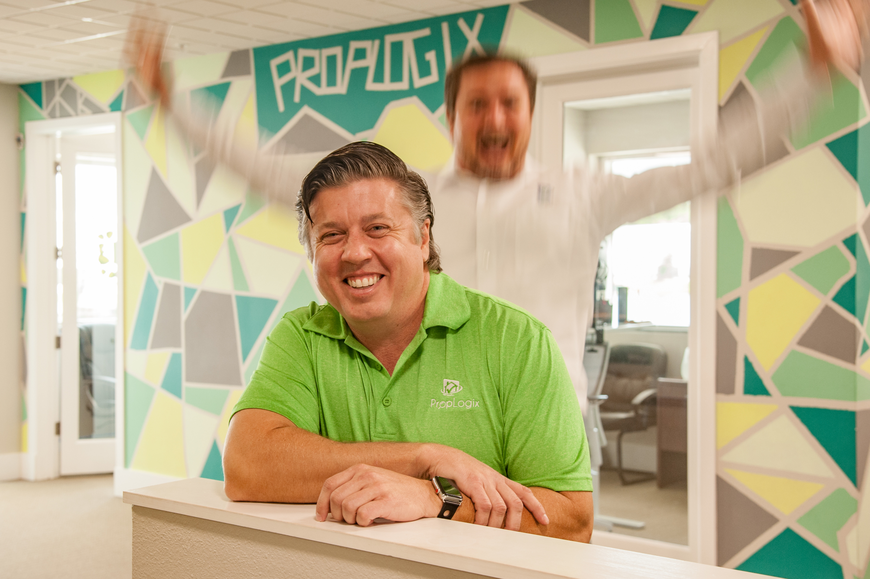 PropLogix CEO/Partner Jesse Biter, in an interview with the Business Observer, says the firm paid $10.5 million for the 44,000-square-foot old IntegraClick building at 5901 North Honore Ave., just west of Interstate 75 and the Mall at the University Town Center. PropLogix, which uses proprietary software to help clients find fees, liens or assessments on properties, to aid real estate closings, plans to begin moving employees from its current cramped headquarters, in the Main Plaza, to the new space in early February. "It all came together pretty quickly," says Biter, who has several buildings and business interests in Sarasota.  
The move, Biter adds, was inevitable for two reasons: one is PropLogix, which has grown revenues 1,651% since 2014, from $1.13 million to $19.79 million in 2018, has long outgrown the 18,000-square-foot Main Plaza office. Another reason is Biter and some partners sold the Main Plaza to a developer from Connecticut, which is planning a multifamily and mixed-use project on the site.  "We are like sardines," in the Main Plaza office, says Biter says of the company, which does more than 20,000 real estate searches a month. "We were either going to have to build something or buy something."
Biter looked into buildings to buy in north Manatee County, the Palmetto area, and several office parks in Sarasota, near Interstate 75. Biter reconnected with the owner of the IntegraClick building, John Lemp, a few months ago. Lemp also co-founded IntegraClick and Clickbooth. Lemp, represented by Sarasota-based Ian Black Real Estate partner Jag Grewal and Broker Associate Amy MacDougall, worked out the deal for the IntegraClick building with Biter. Another online advertising and marketing company Lemp founded, RevContent, had once been in the IntegraClick building. RevContent most recently moved into an 8,000-square-foot office in the BOLD Cowork space in downtown Sarasota — a building Biter developed and owns.  
(This story was updated to reflect that Clickbooth is no longer an IntegraClick subsidiary.)