With their steady, recession-resistant income, family-owned heating, ventilation and air conditioning companies are hot acquisition targets for private equity firms. 
The Gulf Coast, in particular, has been a popular hunting ground. That includes entities like Alpine Investors, a San Francisco-based PE firm whose former subsidiary, Wrench Group, operated in the Tampa/Sarasota, Atlanta, Dallas, Houston and Phoenix markets, buying up HVAC firms — like Sarasota-based CoolToday — that combined for $150 million in annual revenue. Alpine eventually sold Wrench Group to another investment firm, Investcorp. 
Now Alpine is back at it with Apex Service Partners, a newly formed, Tampa-based company led by President and CEO A.J. Brown, 32, and CFO Will Matson, 30. Backed again by Alpine, Apex has $100 million in funds to acquire independently owned HVAC and home services businesses. 
"Our goal," Brown says, "is to partner with the best brands in the best communities and help them become bigger and better versions of themselves, so they can serve their communities better." 
 'I've done the big company stuff, but what is exciting to me is building small businesses. That's how you have an impact on people's lives.' Will Matson, Apex Service Partners
Despite their youth, Brown and Matson have impressive pedigrees. Brown, who grew up in Fort Myers, had a stint at Goldman Sachs before becoming CFO and head of M&A for AVITRU, an Atlanta-based construction software and services business that Lakewood Ranch-based Roper Technologies acquired from Alpine in December 2018. Matson, who grew up in Texas, worked for JPMorganChase & Co. in New York and London.
Matson, who worked for his family's "blue-collar" manufacturing business before going to college, says his fondness for small, founder-owned companies is what led him to Apex. 
"My dad wore blue jeans and work boots, and I worked for him in the summers and experienced all the trials and tribulations of a small family business," Matson says. "I've done the big company stuff, but what is exciting to me is building small businesses. That's how you have an impact on people's lives."
Brown concurs, calling small businesses "the lifeblood of the economy."
GO WIDE
For Brown, Matson and the entire Apex team, success with their venture starts with having a national strategy. In addition to Florida, the company has already bought HVAC and home services firms in Texas, Louisiana and Mississippi. Its most recent acquisition is St. Louis-based Academy Air. 
To date, Apex, with gross revenue of around $200 million, has purchased 14 companies. (Brown and Matson prefer to use the term "partner" rather than "acquire" when discussing deals.) 
"We've partnered with some of the best small- and medium-sized business owners in the industry," Matson says. "But we want to give them resources they've never had. It's like a race car driver who's never had a pit crew. They've never had someone do professional financing, accounting, professional recruiting, professional business intelligence and marketing. So it's about giving them resources but at the same time keeping it extremely local." 
In other words, rebranding is not the Apex way. The company is hands-off in its approach, for the most part, allowing HVAC firms to retain their carefully honed identity and reputation. 
"We operate 20 different brands," Matson says. "We have one of the oldest brands in New Orleans, one of the oldest brands in Naples, in Orlando, and we want to continue to empower them as local institutions."
GO DEEP
Early on, a key move toward building a comprehensive, uniform business development platform was the hiring of Steve McCarty, who filled the role of chief people officer at Apex. McCarty, a longtime executive at Enterprise Holdings, parent company of Enterprise Rent-A-Car, helped build Enterprise's renowned training and management program.  
"He was looking to take that same framework and apply it to the trades because it works so well in the rental car [sector], which is a similar industry, in a way," Brown says. "It's blue-collar; you're washing cars; there's sales involved."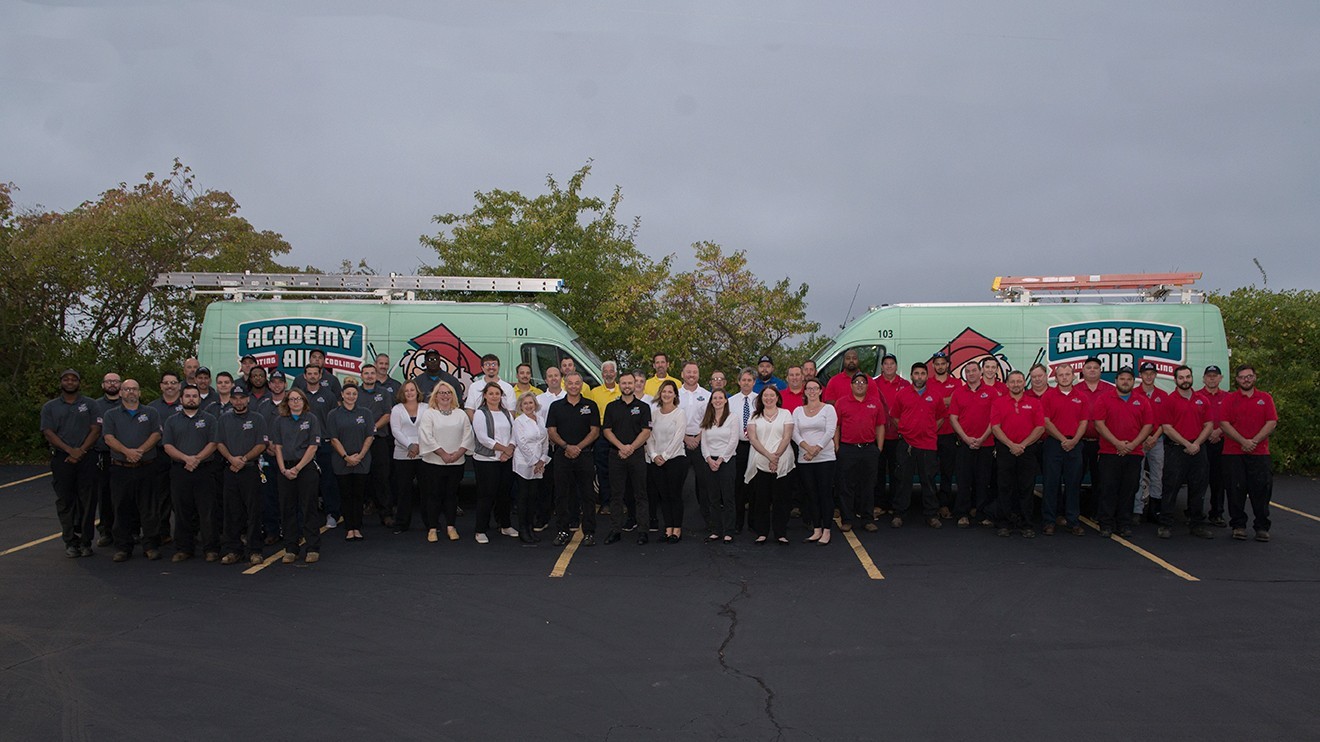 Splurging on a rock star like McCarty as one of its first hires is an indication of how Apex intends to foster deep, long-lasting and mutually beneficial relationships with the companies it acquires, not just flip them for a quick buck. Three of the companies Apex has acquired have already seen their gross annual revenue jump from $15 million to $50 million, and their experiences have been codified into tactics and strategies shared with other Apex partners looking to make similar leaps. 
"As each one of our partners grows, they're running the biggest company they've ever run," Brown says, "because they're growing every month after month after month. So there's talent we provide them and best practices that they share among each other, shared learnings that help them not be the lid that stifles the growth of their business." 
That mindset speaks volumes about Apex's approach to M&A. The company itself, Matson and Brown explain, is not a private equity firm. Yes, it's backed by the deep pockets of Alpine Investors but he and Brown think of what they're doing as a long-term horizon, growth-oriented business development with the intention to buy and hold. The strategy is similar to what Sarasota-based Clockwork Home Services did in the 1990s and 2000s, when it built a network of home services firms under several brands. Toronto-based Direct Energy bought Clockwork in July 2010 for $183 million.
"Private equity gets a bad rap," Brown says. "Quick flip, quick flip, quick flip — there are private equity firms that do that, but our private equity investor is not into that. We are building businesses to last."
Apex, Brown adds, has invested millions of dollars back into the HVAC firms it has acquired. "We've done more than 50 implementations to help modernize systems," he says. "We've spent millions of dollars building a corporate infrastructure, millions of dollars on facilities and equipment. There's been a lot of capital pushed into these businesses to help break them free, so that they have runway for the next 20 years." 
"We want to build something that's going to be around for a really long time," Matson adds, "a business that can last and be an industry leader." 
GO TO SCHOOL 
Small businesses might be the lifeblood of the economy, but people are the lifeblood of small businesses, and therein lies a major challenge Apex must overcome as it seeks to grow its holdings in HVAC and home services. 
"I don't feel like it's an imminent threat, but there aren't enough people going into the trades," Matson says. "People have options. Trying to be an employer of choice in a market with a labor shortage is tough. That's where we're really trying to separate ourselves." 
Matson says Apex invests heavily in recruitment and training initiatives at the local level in an effort to fill the ranks of the companies it buys with talented, hard-working, entrepreneurial tradespeople. "We spend so much time and energy around recruiting, training, developing and really giving people a road map," he says. "We say: 'Look, you just got your GED — are you interested in going to trade school? There's a map where you're making six figures in a couple of years.' We see that story all the time." 
Apex's education efforts also extend to company owners. In many cases, Matson and his team are dealing directly with a founding owner, the only person who's ever been the boss of a company's employees. Through a series of conversations, Apex has to find out how to best satisfy the owner's wishes while setting the company up for future success. 
"We want to honor and preserve the legacy of their life's work," he says, "and take care of their employees. But some people have different desires. Some are throwing the keys at you and saying, 'I want to retire and be on the beach in 90 days.' Others are like: 'I'm slowing down. I want to keep working, but I want to work two days a week.' Whereas others are just getting started. We have to meet a lot of different needs, but at the end of the day, that's why we call ourselves Apex Service Partners. We're trying to serve our partners." 
(This story has been updated to clarify that William Matson was not part of Wrench Group prior to joining Apex Service Partners, and that A.J. Brown, not Matson, grew up in Fort Myers.)