Nurses, doctors and other frontline health care workers have made increasingly urgent pleas in recent weeks for critical supplies, from face masks to ventilators. Face shields have also emerged as a key need during the pandemic. The shields protect users from splatters and splashes by providing a barrier for the people wearing them. Another benefit: They protect hard-to-come-by face masks.
With the need for face shields mounting nationwide, two area firms are taking up the challenge. They're shifting resources — employees, materials and facilities — to focus on building capacity for making face shields. Prior to the pandemic, they didn't make face shields, but now, in the space of days, they do. And these companies are laser focused on getting as many face shields out to market as possible.
Changing Environment
Pinellas Park-based Madico makes window films and other products for the health care, transportation and aerospace industries, manufacturing in a clean room environment.
When the company was founded in 1903, it made leather greeting cards. Madico's evolution also included making wrapping paper and optical products prior to the window films it makes today. As a reminder of the company's rich and nimble history, Madico CEO Shawn Kitchell keeps one of the company's leather greeting cards on his desk. "It's all based on being innovative," he says. "We adapt based on a changing environment."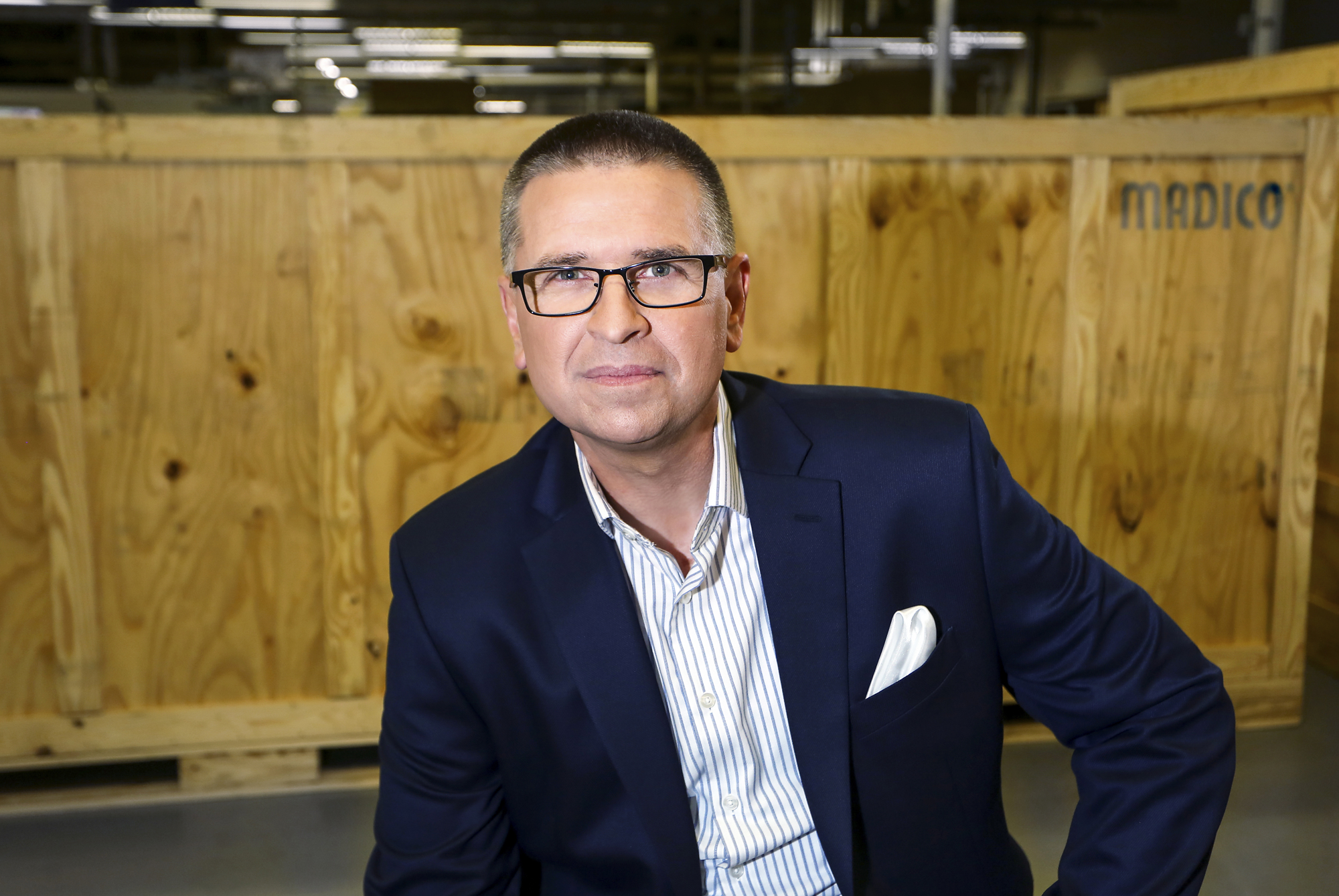 Today, as the coronavirus pandemic grips the nation, that evolution is continuing. Madico donated 1,000 face masks it had leftover from the February grand opening of its 250,000-square-foot facility to health care organizations. As a result, the Pinellas County Economic Development office asked Kitchell to join a group of area manufacturers and emergency responders it assembled to regionally meet critical coronavirus needs. The group has calls twice a week, with people in the health care and first responder network conveying what the needs are and manufacturers helping with supply chain issues and readying supplies.
One of the critical needs the group identified was face shields. "Once we heard there was this need, we put a couple of our engineers to work," Kitchell says. "Within a few hours, they came up with some prototypes."
Normally, if the company wanted to launch a product, it would do a market study that could take months. It would make several prototypes. It would do intensive research. "That's all been very compressed," Kitchell says.
Within two weeks, Madico moved into production. The company recently completed certification testing and has begun producing 10,000 face shields each day. Madico is running its production line 24 hours a day, 7 days per week. It's sending shields to BayCare Health System and Pinellas County Government, and the company has received inquiries from around the world.
"The reason we're able to do it so quickly is we tried to develop a product that utilized raw materials we had in the supply network already and manufacturing equipment we already had," Kitchell says. "We already had the capability and supply chain built up. It allows us to transition pretty quickly."
As manufacturing moves to a new product, it also involves acquiring some different materials. "We never made face shields before," Kitchell says. "Some component pieces, like foam for headbands, we don't have in stock. We're sourcing that."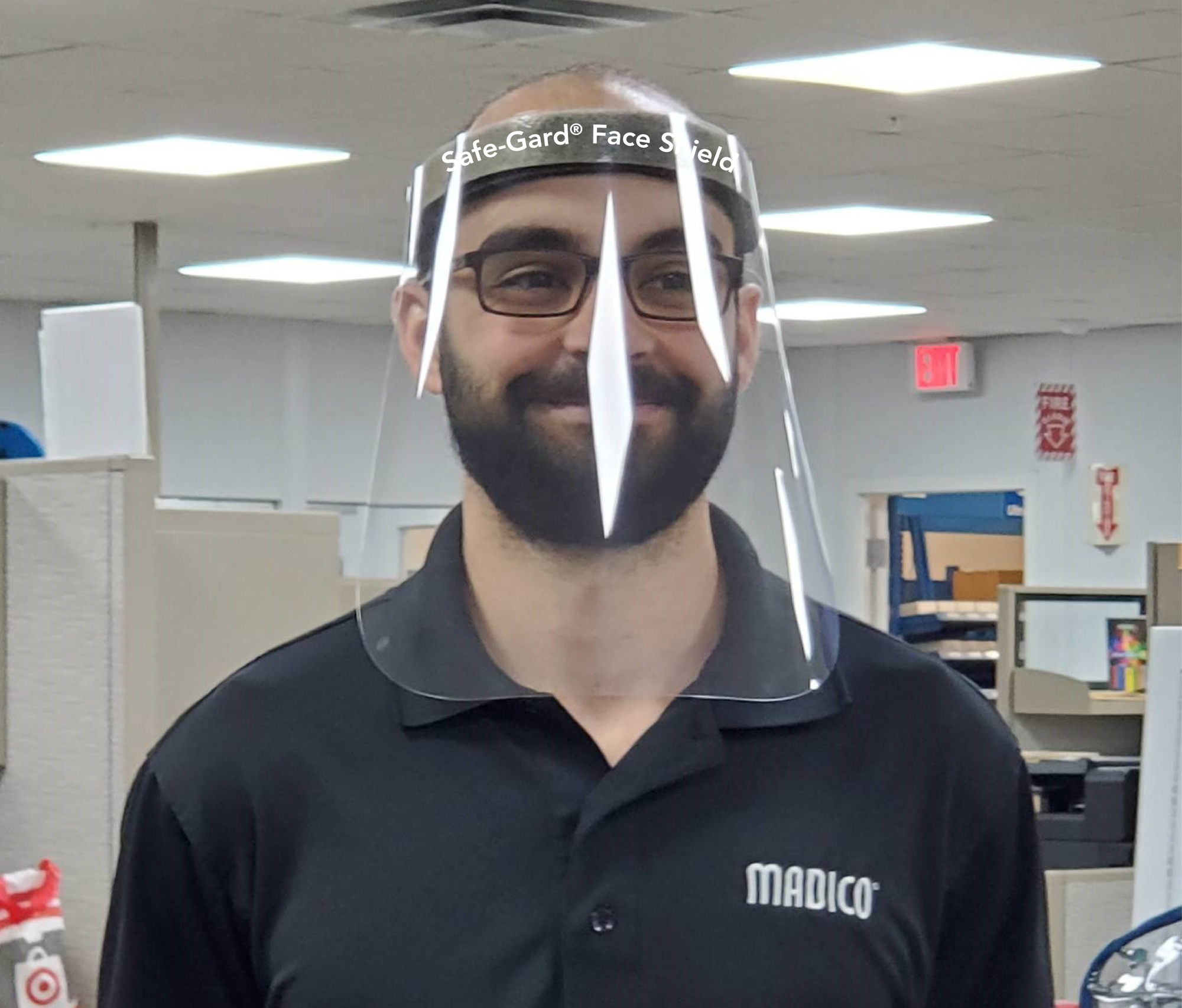 Making a new product involves training employees, too. Workers will be cutting the shape of the face shield from raw materials, which involves a process and tool the company doesn't regularly use. "We need to make sure we have plenty of people trained to use it, so it can continuously operate," Kitchell says. The company might also have to hire some additional employees to assemble face shields. 
For its first orders, Madico has projected demand at tens of thousands of units, and it has the inventory of main materials needed to make them. "The overall demand depends on where this virus goes and how long this lasts," Kitchell says. "We have the capability to make hundreds of thousands of units a week if we need to."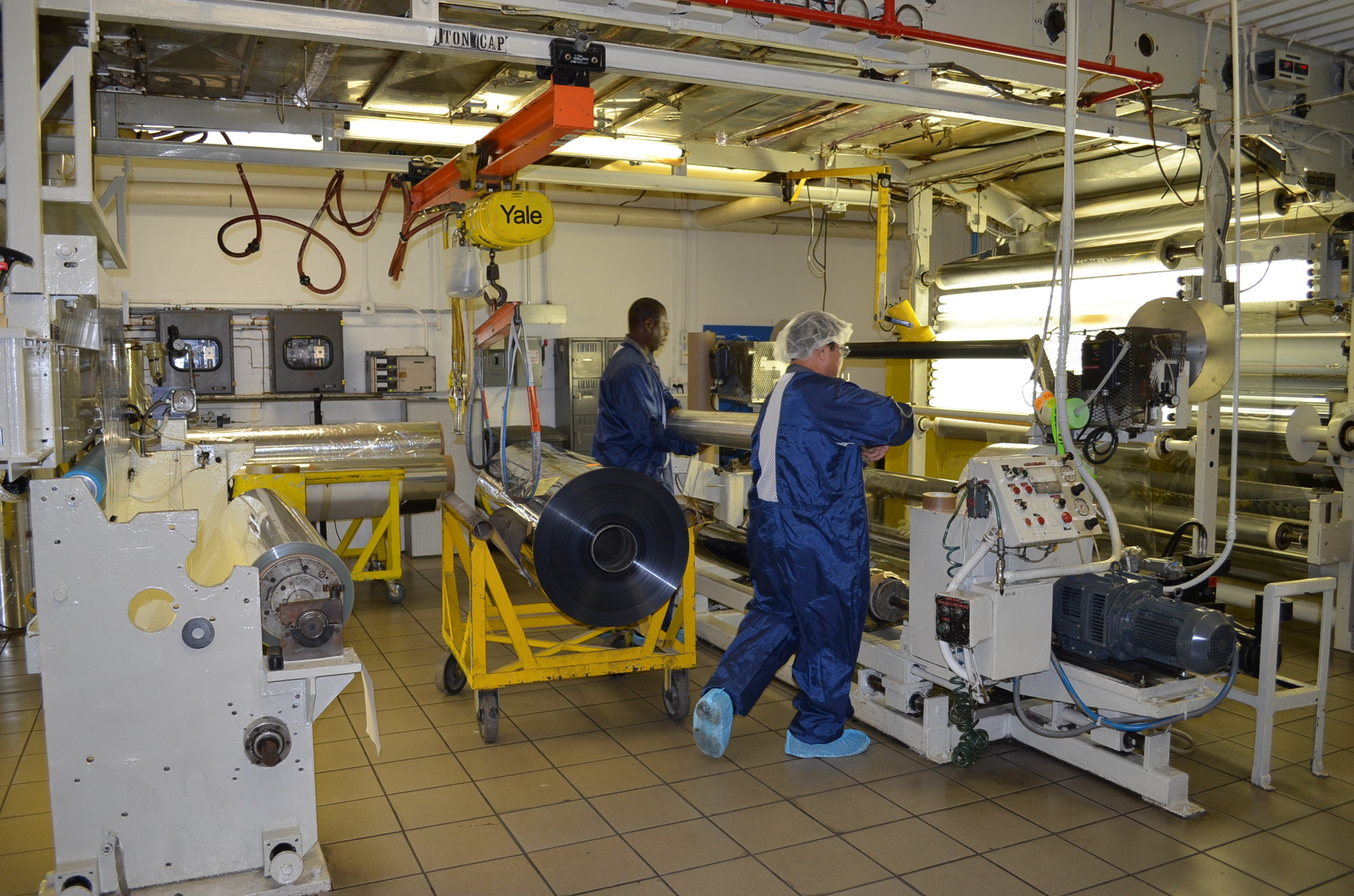 Most of the staff is now working from home, and that's made it even more challenging to introduce a new product quickly. "It's not quite as easy as, 'I've got an idea,' and you run down the hall," Kitchell says. Now teleconferences have to be organized to bring employees together.
Madico's marketing firm is working on promotional materials and data sheets about the face shields, so potential customers will know they're available. "For us really, it's all about what can we do to help out," Kitchell says. "That's really our motivation here. It wasn't to create a whole other business venture for us, but there's a critical need, and if we can help in any way fill this critical need, that's what we'll do."
Focus on Solutions
Precision Products, based in south Manatee County, has also made a quick shift to producing face shields.
The firm is an injection molding company that makes items including pill dividers, syringe trays and insulated tumblers. Precision is the umbrella company for the brands Freeheart, Covo and Signature Tumblers.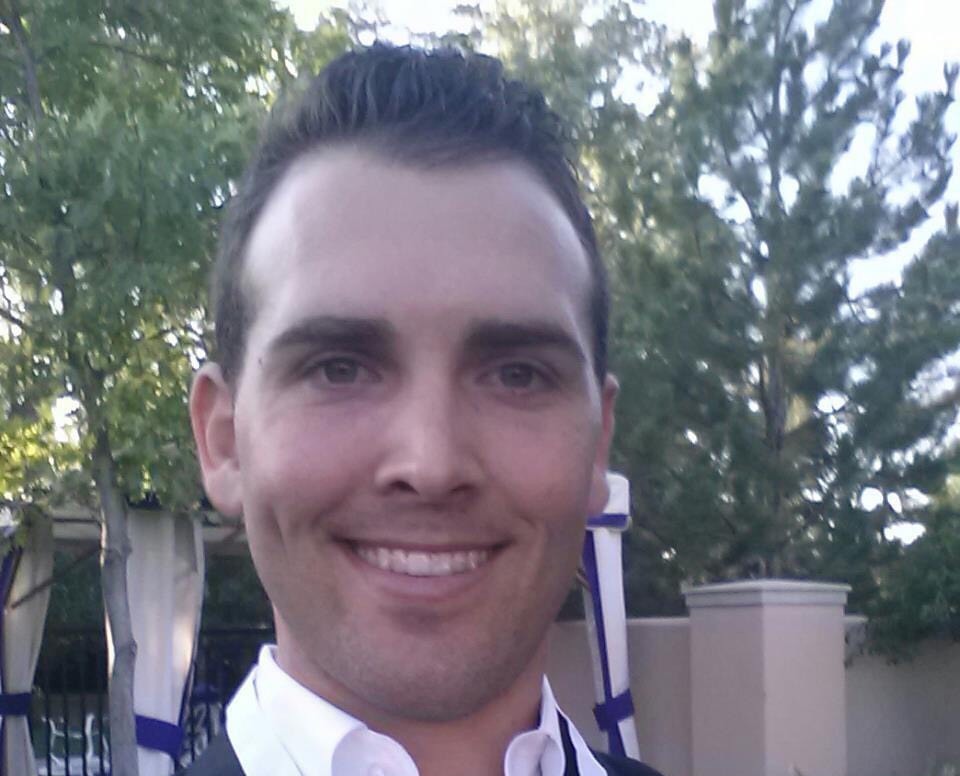 Precision CEO John Walters IV says the firm made the decision to start making face shields in mid-March. It has already made and sold more than 1 million face shields, he adds.  
Precision has taken similar steps to Madico. It's acquired materials and cutting equipment and built new processes. "We went from making medical and retail products to making face shields practically overnight," Walters says. "We chose face shields because it was an easy shift for us being a plastic injection molder."
One advantage for the firm? Materials needed for face shields are similar to items the company uses on a regular basis. "We already had a firm and concrete supply chain, so we knew where to get the materials, and we got them quickly," he says.
'We're taking orders every day. Pretty much everything we produce is sold as soon as it comes off the production line.' — John Walters IV, Precision Products
Building up production capacity for a new product rapidly has its challenges, among them evolving facility and staff requirements. Precision brought in 30 work stations to accommodate production. The company employs about 15 people, and all of them are now making face shields. It also contracted temporary help from about 90 people. "Any time you pivot your company in three days, you're going to face a lot of obstacles and challenges," Walters says. "Just expect it, and focus on the solution. People who are successful typically focus on the solutions. Everybody else typically gets stuck on the problems."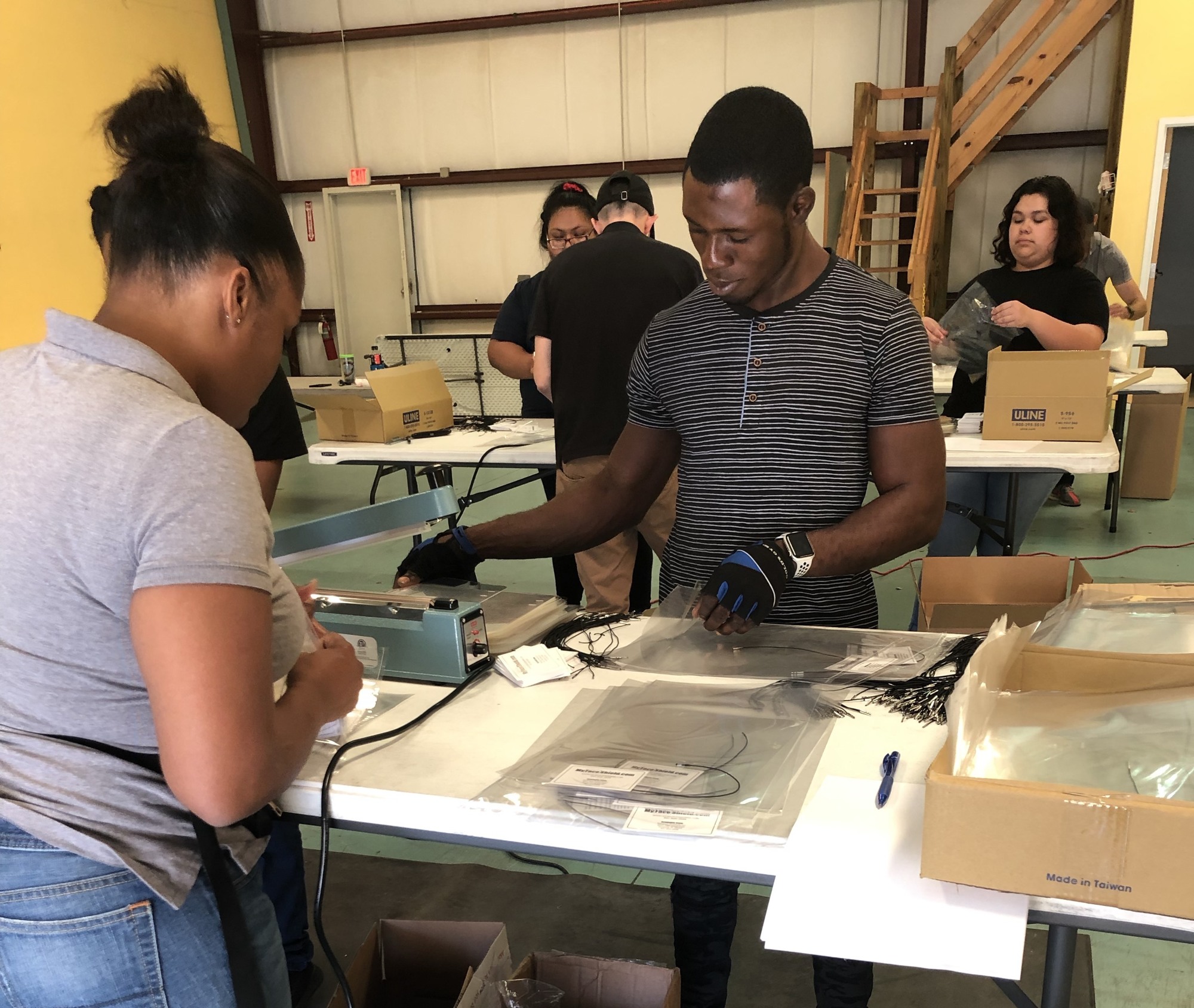 Precision is making 100,000 face shields a day, and Walters expects ultimately to make 5 million to 10 million units. "I don't know over what time period that will be," he says. "It depends on how the coronavirus plays out."
The firm is selling face shields to health care organizations and other companies around the country that find out about the product through word of mouth and a website Precision set up, MyFaceShield.com. "We're taking orders every day," Walters says. "Pretty much everything we produce is sold as soon as it comes off the production line."