In high school in the late 1950s, David Straz held a job sweeping floors of a local bank in his native Milwaukee. Some 30 years later, after a building a bank that had more than 20 branches and $400 million in assets across Wisconsin, Straz became chairman of a holding company that owned the bank where he once swept floors.
Going full circle like that was just the beginning for Straz. He moved his primary residence to Tampa in 1980. He then went on a four-decade quest to give back to the city and region, which led the way on a myriad philanthropic causes with a focus in arts, conservation and education. Most notably is the Straz Center for Performing Arts, the downtown Tampa theater that bears his name. Straz also ran an unsuccessful Tampa mayoral campaign earlier this year, losing to Jane Castor.
Straz died Nov. 18, passing away in his sleep while on a fishing trip with close friends, according to a statement from the David A. Straz Jr. Foundation. He was 77 years old.
'I have lived the American dream, and it started with a broom in my hand. In high school, my first job was sweeping the floors of a bank. I also made money to support myself by cutting grass with the family lawnmower.' David Straz
"We've lost a real giant in the community," says Bank of Tampa President and CEO Bill West, who served with Straz on the theater organization's board. West compared Straz to John Sykes, another Tampa transplant who grew businesses locally and then became one of the region's leading philanthropists. "We need more people like David in this town. His leadership will be missed."
West also picked up a valuable business lesson from Straz: Use your ears more than your mouth. "He never spoke first at a meeting, even though his name was on the building," West says. "He was thorough and thoughtful and never dominated the conversation."
Straz's banking career began soon after he graduated from Marquette University in 1965. (Marquette awarded him an honorary doctorate in 2018.) The bank he founded in Wisconsin, First Southeast Banking Corp., was acquired by a bank that later became part of U.S. Bank.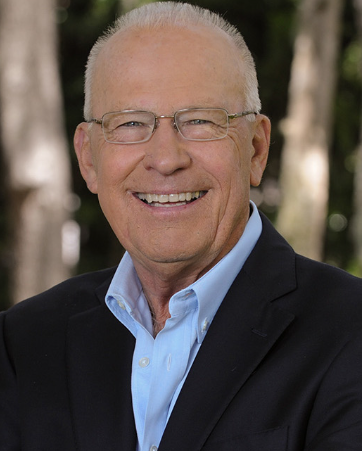 In the Tampa Bay region in the 1980s, Straz founded two banks, First Gulf Beach Bank in St. Petersburg and First Bank & Trust Co. in Belleair Bluffs. Those banks, in addition to a third one, were sold and now operate under the Fifth Third Bank and Bank of America brands.
While working and in retirement, Straz and his family — he's survived by his wife, Catherine Lowry Straz, and daughter, Keebler Straz — gave to a host of causes. In addition to the theater, the list includes the Lowry Park Zoo in Tampa, where his donation established a manatee hospital. Straz was also a big supporter of the University of Tampa and Tampa General Hospital.  
Straz often referred to his humble beginnings in his mayoral campaign. "I have lived the American dream, and it started with a broom in my hand. In high school, my first job was sweeping the floors of a bank. I also made money to support myself by cutting grass with the family lawnmower," he wrote on a campaign Facebook post. "Good fortune in the business world has allowed me to have a positive impact on the life of this city through the business community and our family's support of higher education and cultural institutions."