For someone who has attention-deficit disorder and dyslexia, loathes meetings and committees and refers to himself as an introvert, Richard Gonzmart has proven to be a highly effective leader.
He's shepherded his Ybor City family business, the Columbia Restaurant Group, for decades while taking significant risks with ventures that have not only paid off for his company, but helped ignite new growth and positive vibes in downtown Tampa. The company — officials decline to provide revenue figures — has some 1,400 employees at locations statewide. 
Gonzmart's quirks are on full display as soon as you shake hands and sit down to talk.
"I'm not the most organized person," he says as he rifles through piles of papers strewn, seemingly at random, across his desk, "but I love to surround myself with organized people."
Soon enough, though, Gonzmart, 66, produces exactly the document he was searching for — a brochure with a photo of him as a young man, in his mid-30s or so, clad in chef's garb. The ensuring decades have grayed his hair and mustache, but his passion for the Columbia — Florida's oldest restaurant — and the 11 other Gulf Coast eateries its success has spawned remains undimmed.
"I live in fear. Every year has been the best year, and that's what scares me." Richard Gonzmart, president and CEO of the Columbia Restaurant Group.
"People can't keep up with me," he says. "My mind goes 100 mph. This morning, I woke up at 3:15. I had to stay in bed pretending to be asleep."
For someone who took over a long-established family business — he represents the fourth generation to own and operate the Columbia Restaurant Group — Gonzmart operates like a gutsy, risk-taking entrepreneur bent on changing the game. He's also never satisfied, another hallmark of the entrepreneurial mindset.
"I live in fear," he says. "Every year has been the best year, and that's what scares me."
So as successful as the company has been under his watch, Gonzmart knows it could all come crashing down if he's not at the top of his game. That's why he's continued to defy expectations. Case in point: Ulele, the upscale restaurant and brewery Gonzmart opened in 2014 in a little-trafficked area along the eastern bank of the Hillsborough River, north of downtown Tampa.
"Everyone, even my wife, said I had lost my mind," Gonzmart says. But where doubters saw a money pit, Gonzmart saw a bold concept that hadn't been tried before, in an area of Tampa that was ripe for development. And he was willing to be patient with it. "Short term," he likes to say, "is 10 years."
He adds, "You can't just go out and look for profits. Profits come when you deliver a good product."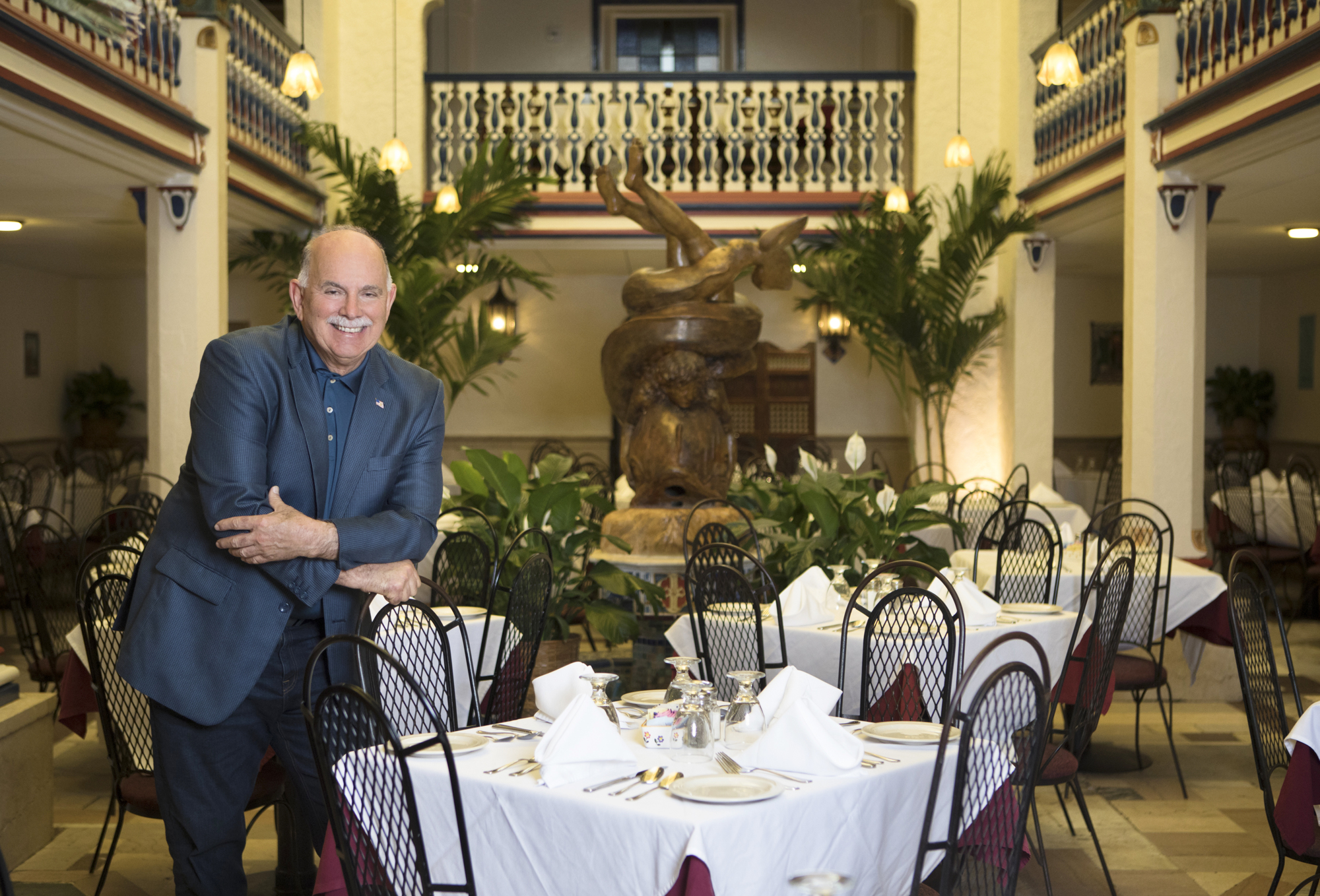 Today, the bustling area is known as Tampa Heights and is home to the trendy Armature Works building. Under former Mayor Bob Buckhorn, the Tampa Riverwalk has been extended north to Ulele — which in 2018 was named one of the most scenic restaurants in the United States by restaurant review website OpenTable.com — connecting Ulele and Tampa Heights to the city's downtown core.
"My father always told me that if there's waterfront property available," Gonzmart says, "take the chance."
Dive into waterfront is the same strategy Gonzmart took with the former Pattigeorge's Restaurant on Longboat Key, which the company is redeveloping into a 200-seat eatery, a $4 million project. And even before Ulele, Gonzmart took a risk on a waterfront location, opening a Columbia Restaurant-themed café at the Tampa Bay History Center, along the Garrison Channel that connects the Hillsborough River to the Ybor Turning Basin.
"Nobody wanted to do that," Gonzmart says of the decision, partially motivated by his father's love of history.
"My father always said history is the best subject you can learn," he says. "You can learn from your mistakes, and correct them."
When the Tampa Bay History Center was being developed in the late 1980s, Gonzmart's father, Cesar Gonzmart — a colorful character in his own right who lorded over the Columbia for decades — urged his son to make a major investment in the facility. Gonzmart says that was the first time he realized someday he wouldn't be able to rely on his father's counsel, and it shook him to the core.
"It makes me want to cry," he says. "I could show you exactly on Harbour Island where we were standing [when he said that]."
Cesar Gonzmart died a few years later, in December 1992, leaving Richard and his older brother, Casey, to oversee the Columbia Restaurant Group. But a messy divorce that threatened the company's finances led Casey to take a back seat to Richard, with the elder brother becoming chairman of the board while Richard took up Cesar's mantle as president and CEO, or, as he prefers to be known, "fourth-generation caretaker."
TEACHABLE MOMENTS
The careful success has led to admiration — both in the region, national hospitality circles and even academia, where Len Green, a professor at Babson College in Wellesley, Mass., has spent the better part of two decades studying the success of the Columbia Restaurant Group — and getting to know Gonzmart. Babson routinely tops rankings of the nation's best educational programs for aspiring entrepreneurs. In 2018, its F.W. Olin Graduate School of Business was ranked No. 1 by both Entrepreneur magazine and the Princeton Review.
Gonzmart, ever the teacher, makes annual trips to Massachusetts to speak to Green's students, who are required to research and write a case study about the company.
"They are one of the few family businesses you can write about that goes through four generations," Green says. "I had been doing research to see how many companies actually get past two or three generations, which is when most of them fail. And sure enough, Richard was there."
Green says Gonzmart, despite some quirks, is essentially a textbook entrepreneur because of his firm sense of what's right and wrong for his business and his ability to listen and pivot when needed. When he visits Babson, Gonzmart gets to walk the students through critical decisions he faced, explaining to them, in person, why potential solutions they offer would or wouldn't work.
"And yet, sometimes he'll say, 'I'd never thought of that. I'll have to try it,'" Green says.
For Gonzmart, the long-term success of a family-run business, particularly in the fickle restaurant industry, can be boiled down to a simple formula even a Babson freshman could understand.
"There are only about 15 restaurants that are 100-plus years old and still operating continuously by the same family," he says. "The others failed because they weren't ready for succession, for financial commitments. They take money out instead of putting it in."
For that reason, when Gonzmart took over the company from his father, who had, by all accounts, run it with considerably less discipline — which led the business to the brink of financial ruin in the mid-1990s — Gonzmart put all of the family members, including himself, on strict salaries. No one was allowed to take money out of the business for personal use.
Yet, says Green, for all his disciplined financial moves, Gonzmart exhibits a certain modern sensibility and flexibility when it comes to family involvement in the company — key traits that have allowed the business to not only survive, but thrive, while so many others fall to the wayside.
"A big reason why family businesses fail is the entrepreneur wants his kids to [learn the business] the same way he or she had to do it, but it's not that easy," Green says. "Richard has two daughters, and he wanted them to work in the kitchen the way he did, and work as a waiter, but it's difficult — you've got to do things a little differently now — because he wasn't handed anything."
Though Gonzmart did his fatherly best to instill a sense of appreciation and gratitude in daughters Lauren and Andrea — such as paying them less than other employees and encouraging them, to no avail, to work outside the family business — he also allowed them to find their own footing at Columbia, as opposed to carving out defined roles.
For example, Andrea, after going to work in the kitchen at 10 years old, gravitated more toward menu and recipe development and played a key role in standardizing the Columbia's recipes as it added locations. Lauren, meanwhile, loved to help Dad in the office during her pre-teen years. She would go on to manage the company's retail sales division before stepping away from the company to raise her children.
Although the fifth generation of the Gonzmart family has begun to assert itself in leadership roles at the Columbia Restaurant Group — Andrea Gonzmart Williams, 40, is in line to become president and CEO while nephew Casey Gonzmart Jr., 36, heads up operations and was instrumental in developing the Columbia's Tampa International Airport restaurant — there's little doubt as to whose firm grip holds the reins of the family enterprise. 
"I guess I'm a dictator, of sorts," says Gonzmart. "I'll listen, but I just can't let them make mistakes. This is a family, not a big corporation. You don't just change something to save a nickel."
FUTURE SIGHT
Like some other hard-charging entrepreneurs, Gonzmart has faced health scares related to anxiety and stress. In the early 1980s, when he, his wife Melanie, and their two daughters moved to St. Augustine for a few years so he could concentrate on the troubled Columbia restaurant in that city, Gonzmart suffered a series of panic attacks that landed him in a hospital's critical-care unit for five days. He was overweight at the time and struggled with hyperventilation.
Mental-health counseling, self-hypnosis and biofeedback therapy helped him get his stress and breathing problems under control, while triathlons and marathons brought his weight down. He began to compete in events nationwide and even had the "honor" of losing a triathlon to an up-and-comer named Lance Armstrong, who was 17 at the time.
"I'm a competitive person," Gonzmart says. "At first it was just to get healthy but then I ended up coming third in a national championship in my age group. So then it became stressful because I was not doing it for fun; I was doing it to compete."
To temper his competitive urges, Gonzmart began to focus more on walking and jogging with friends and family members. But as of last year, he was still competing in marathons — he's run 24 to date. One of the few things to slow him down? Heart arrhythmia, which led to double-ablation cardiac surgery.
Gonzmart knows he won't be able to run the Columbia Restaurant Group forever. He mulled retirement once before, when he was 53, even going so far as to announce to his family that he would step down at age 58. Obviously, that never came to pass, but Gonzmart swears a firm succession plan is now in place that will see him cede control when he turns 72 — in six years. 
"I think I'll still be active [in the business]," he says, "depending on what I want to do. But at some point, you have to step away. You're not as sharp, and you're not going to have the energy. But as I told my daughters, it's not guaranteed I'll make it to 72. I'm not guaranteed tomorrow. One day, they will need to understand everything."
Green, at Babson College, is confident Gonzmart will have the fifth generation ready to lead and grow the Columbia Restaurant Group.
"When you are someone as smart as Richard, you don't leave things to chance," he says. "He's got backup plans to backup plans."
Read the stories behind the Business Observer's 2019 Top Entrepreneurs: 
Top Entrepreneurs: A life's passion doesn't come without sacrifices 
Top Entrepreneurs: Founder, CEO of real estate empire built company with focus on values, customer service
Top Entrepreneurs: Hardware store chain president adopts a Wynn-ing formula
Top Entrepreneurs: Cybersecurity guru defies conventional wisdom 
Top Entrepreneurs: CEO grows boat club business, expands into other vehicles
Top Entrepreneurs: Glass company shines in grabbing market share 
Top Entrepreneurs: Ex-attorney cleans up with disruptive approach to business 
Top Entrepreneurs: Ice cream company owner scoops out winning formula
Top Entrepreneurs: Roofing component manufacturer's growth is no flash in the pan