Walt Eppard fell into a technical career in the trades in the late 1950s while in the Air Force. The military said he couldn't fly because he was colorblind. So he instead worked in aircraft maintenance and later technical writing.
Eppard eventually got into real estate development and ended up in Sarasota. His decades-long career ranges from a variety of shopping plazas to Waterlefe Golf & River Club, off the Manatee River in east Manatee County.
Now 86, Eppard is returning to his roots. He has a leading role in a series of classes to give people, mostly in their early 20s, a boost to get into the trades, starting with auto repair and HVAC installation.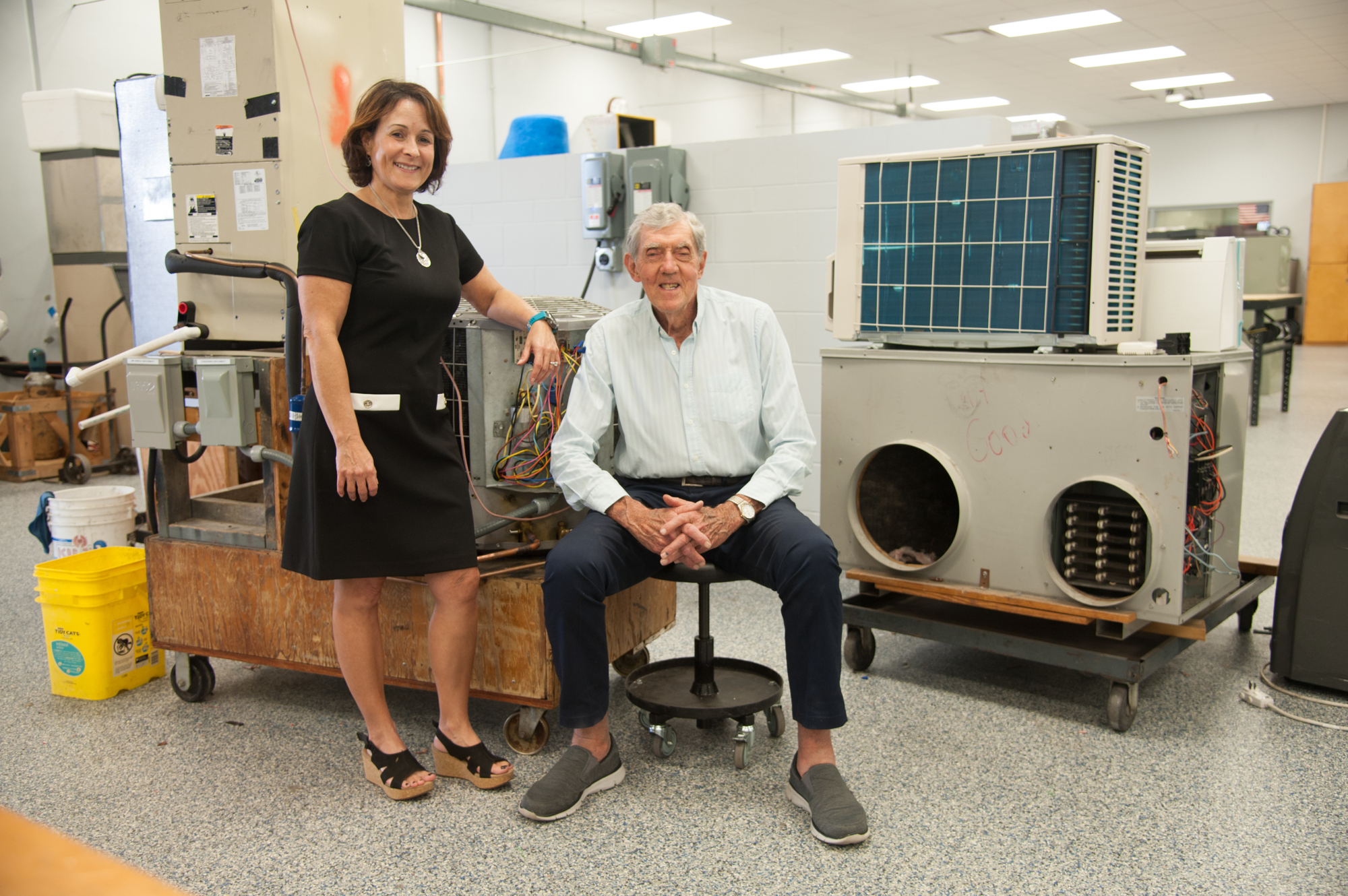 While doing so, Eppard is helping CareerEdge, a unit of the Greater Sarasota Chamber of Commerce, shape a new way to train the area's tradespeople. The model? Create short, laser-focused curriculums and what the organization calls "fast track express programs" that are highly tailored to specific employer needs. The employers that work with the program, in a first for CareerEdge, vet and interview the students, then hire them after the classes.
"I've been doing this for 10 years, and this has been the most exciting program we've had where we really connected with the donor," says Mireya Eavey, chief workforce officer for the chamber, who oversees CareerEdge. "It's different than anything we've done before."
The fast-track programs are essentially a triangle: Eppard, through the Eppard Family Foundation, provides funds for tuition and other costs, so students attend for free. The second side is CareerEdge, which runs the program and student enrollment. The third side is area companies, including Ultimate Air, Cool Today, Del-Air and Johnstone Supply, which all donated equipment and worked with Eavey and Eppard on the curriculum.
In turn, these classes address what many executives of companies in the trades say is their core obstacle to growth: finding, hiring and retaining skilled tradespeople.
Jeff Markey, founder and owner of Sarasota-based Ultimate Air, in business locally since 1959, says these fast-track classes don't compete with other local classes or curriculums that lead to an associate's degree or something similar. While those are fine, Markey says the need for air conditioner installers is immediate, and the lack of enough good ones presents a significant impact on generating revenue. "This isn't vocational training," says Markey. "It's very heavy on (on-the-job) teaching skills, and there are few, if any, textbooks."    
'Real estate has been good to me, and I'm at a point in my life financially where I can really help.' Walt Eppard, CareerEdge Fast Track donor
The first fast-track program through the Eppard-CareerEdge partnership was held last summer, for auto mechanics. Human resources officials from eight area dealerships helped write the training curriculums, while Eppard paid for tuition for 32 students. Those students, who came to the 11-week classes, held on weekends and nights at Suncoast Technical College in Sarasota, with no auto mechanic experience, were then offered jobs at area dealerships. The pay started at $12 an hour, with chances for raises quickly by meeting performance goals.
"Some of these students were working at McDonald's and Walmart before this," Eppard, "so this is a big step up for them."
The HVAC fast-track classes got an even better response. Some 450 people applied for 12 spots in the inaugural HVAC fast-track session, which began Jan. 22 and runs through April. Employees of the partnering HVAC companies teach the classes, held at Manatee Technical College. Those teachers show the students how to install a unit, then watch them do it. Bridges to Careers, CareerEdge's soft skills training, is incorporated into the beginning and ending of the training. 
Like Markey and Eavey, Eppard laments the lost art of hands-on training for people to get decent-paying jobs where they use their hands. With the early success so far, Eppard anticipates adding some other disciplines, from plumbing to drywall installation.
"I've been aware of the need and thinking about doing something like this for a while," Eppard says. "Real estate has been good to me, and I'm at a point in my life financially where I can really help."