After meeting through a mutual friend while living in Chicago in 2012, Peter Maldonado of Naples and Rashid Ali had lunch the next day to discuss an idea: launching a company specializing in meat snack sticks that would appeal to the healthy eating demographic.
Maldonado, a personal trainer who had previously been a purveyor of frozen healthy meals at dozens of gyms from Southwest Florida to Atlanta, was living in the Midwest, so his wife could finish school. Ali's financial and operations expertise perfectly complemented Maldonado's marketing and sales acumen. And Maldonado had noticed during travels to CrossFit competitions the vast array of products sold to participants and the growing market of customers for those products.
Then it hit him. "When I grew up, I loved any type of protein, but especially meat snacks," Maldonado, 37, says. "I didn't like jerky so much because it was hard to eat, but I liked Slim Jims. I knew they were so bad for you and wondered, 'Why didn't somebody make a healthy version?' I wanted to make them with grass-fed beef — take the sugar out and all the artificial ingredients."
And with that, Chomps was born. With each partner investing $3,250, they developed a base recipe and found a tiny smokehouse operator, Western Smokehouse, six hours away in Greentop, Mo. They developed a product and used direct marketing to sell the first run to their target audience through social media.
Today, Chomps — its LLC name is We Are The Chompians — is taking a huge bite out of the meat snack market with its variety of all-natural, healthy snack sticks. It did $21 million in gross revenues in 2018, up 85.8% from $11.3 million in 2017. 
And the partners did it, says, Maldonado, without putting in another dime of their own capital while taking in a small amount of outside funding from advisors and small retailers they brought in as partners. Based in Naples with the bulk of the operation in the Midwest, the two still control about 95% of the company, which Maldonado expects to do $40 million in sales 2019. There are 12 full-time employees. 
All this from what Maldonado first thought of as a side hustle while he was working in his father-in-law's development and real estate company in Naples. "I thought this was going to be a side gig for me," he says. "I built a website, started test marketing to see what would happen, and, as I expected, we started getting random people buying them."
Then, within 30 days, the company showed a profit — all of which was reinvested into more product and social media marketing as orders organically began to grow among the ketogenic, the Whole 30 and similar diets. Today, Chomps' 1.5-ounce sticks are available online and in thousands of stores in turkey, Italian-style beef, jalapeno beef, sea salt beef, salt and pepper venison, jalapeno turkey and cranberry beef flavors.
"We hand inspect every single stick we manufacture. When we started out it wasn't that big a deal. Rashid and I could sit in my apartment in Chicago and hand inspect them. Now we make 3 or 4 million in a month, and we inspect all of them." Peter Maldonado, co-founder and CEO of Chomps
It was while Maldonado was driving a moving truck from Chicago to Naples in late 2013 that the watershed moment occurred. The Shopify app on his phone, which had previously tracked about five sales per day, began alerting him to a new sale every few seconds. A website specializing in cultivating men's products for home delivery had picked up the product. The race was on.
"I thought the app was broken," Maldonado says. "I stopped for the night and saw that it was for real. We blew through the inventory we had in-house in two hours, and that went on for a week. We were back-ordered and scrambling because at that time, we were still hand-packing all the orders ourselves. Most people were understanding about it, and a lot of them are still our customers today."
Through it all, Chomps has never strayed from its social media marketing origins, though e-commerce today accounts for about 30% of its sales. Its first major retailer was Trader Joe's in August 2016. Now Chomps can be found in major Northeast, Midwest and Southwest grocery retailers, such as Wegmans, Meijer and Safeway Albertsons, as well as Southeastern Kroger brand Harris-Teeter. The company is also in 1,104 Walmart stores — and expects to be in upwards of 2,000 by the end of the year — and is test marketing in 7-Eleven stores in the Midwest.
To keep up with that demand, Chomps makes some 4 million snack sticks per month, each one retailing for $1.99. Sticks are individually inspected by an outsourced provider with a dedicated team at a location outside Chicago. As for Western Smokehouse, the tiny corner store has been replaced by a 50,000-square-foot — and growing — facility that has expanded from a one-man business to the largest employer in Greentop.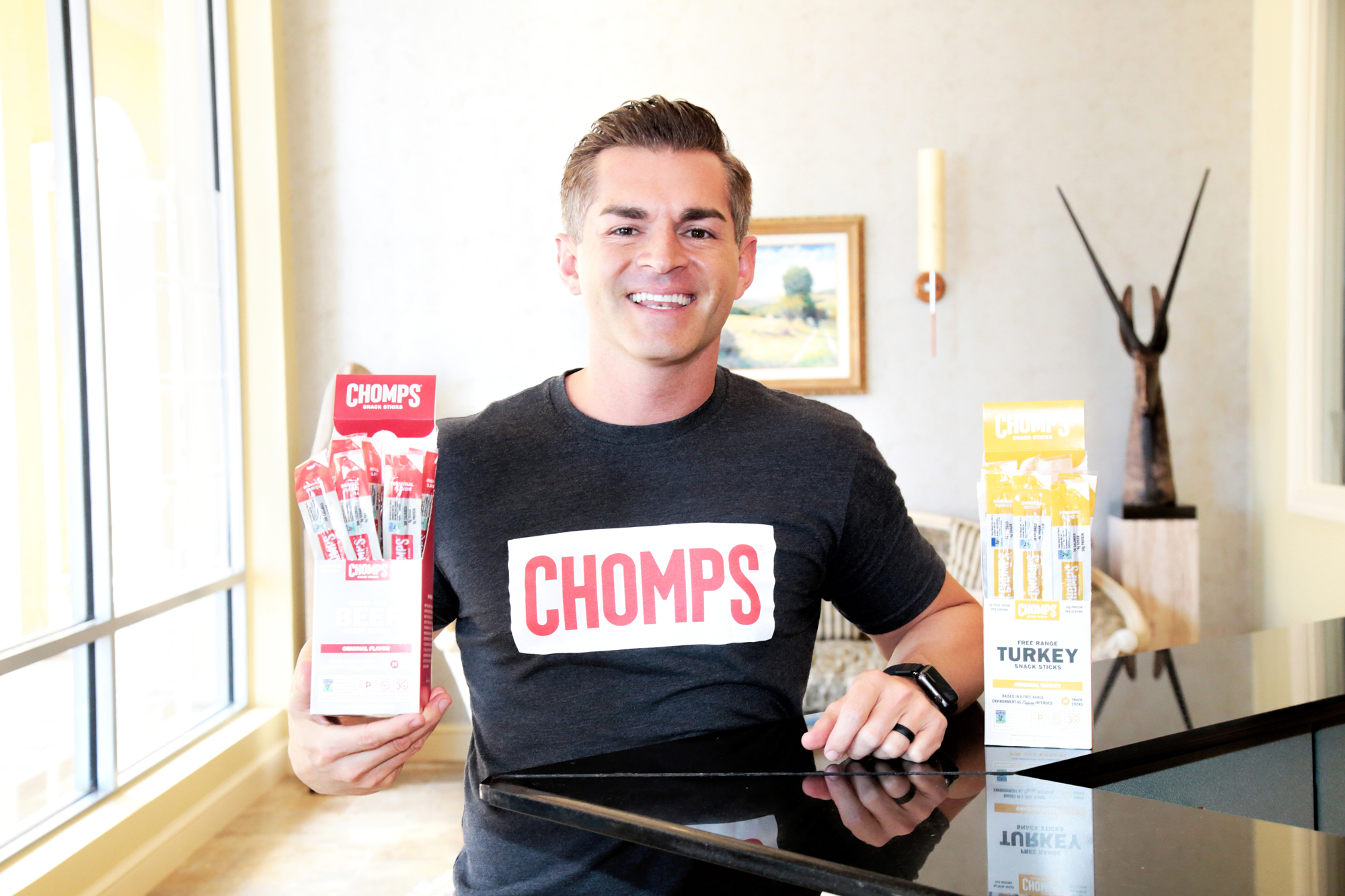 Chomps also recently rebranded, dropping the words "snack sticks" from its identity to allow for product diversification. "We haven't scratched the surface yet on what we can do with snack sticks," Maldonado says. "But when I look at the future of this business and this brand, I think it could be so much more."