One part mobile marketing agency, one part eco-friendly transportation service, The Nickel Ride has grown rapidly as communities seek new and improved ways to move people and boost commerce year-round in downtown business districts. 
The company expects to drive even more rapid growth in 2019, including raising up to $3 million in capital. 
Headquartered in Fort Myers, The Nickel Ride was founded in August 2017 by Judah Longgrear, 28, an enterprising sort who opened his own coffee shop at 19 before heading to college at West Virginia University. He later worked for some large companies, including SalesForce, before relocating to Fort Myers for a consulting job.
"I understood the struggle of not only having residents get to experience your product, but also visitors." Judah Longgrear, founder and CEO of The Nickel Ride.
Employing a fleet of electric-powered shuttles emblazoned with advertisements for local businesses, Nickel Ride drivers pick up and drop off locals and tourists alike in downtown Fort Myers, St. Petersburg, Punta Gorda, Naples and Cape Coral. Riders can hail a shuttle by calling a free 855 number or using a smartphone app. The rides for passengers are free. 
Longgrear founded the company to help local businesses better showcase their products and services — without taking too much time and cost into crafting ultra-creative marketing and advertising campaigns.
"As a former business owner, I understood the struggle of not only having residents get to experience your product, but also visitors," he says. "Let's say you come to a new area. You're not sure what places you should check out, but you want to experience something authentic. I saw two ways to solve that problem: Focus on an eco-friendly people mover that would work as an extension of a downtown area, while also providing a mobile marketing option that would leverage the brands and companies that are in that area and literally pick people up and drop them off at those companies' doorsteps."
Nickel Ride marketing packages can range from as little as $100 to more than $2,000 per month. It depends on the type of campaign, the market, and how much advertising the client would like displayed on the shuttles. In Lee County, the company has partnered with more than 50 local businesses and provided more than 50,000 free rides.
Longgrear's background in high-tech sales and consulting roles led him to add a digital analytics component to The Nickel Ride's offerings, which he says helps differentiate the company from other shuttle services that offer advertising partnerships.
"That's the real value we're giving our customers," he says. "They can log into a dashboard and see exactly how many impressions they are getting from their vehicle advertisements, as well as who has actually taken a ride to their business. We can also push promotions and offers through that platform."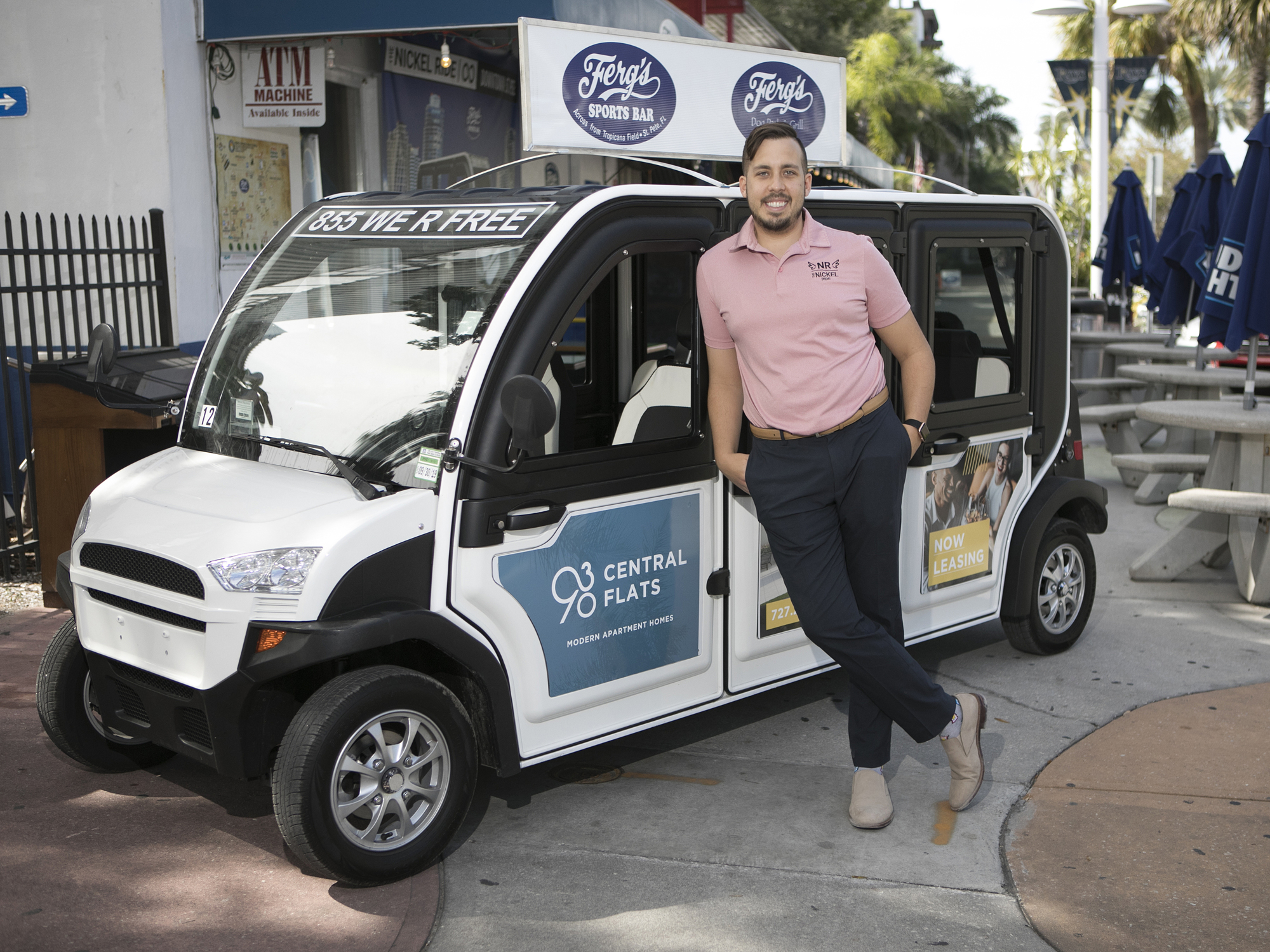 The Nickel Ride also offers a personal touch when it comes to mobile marketing: Its drivers — who make, on average, more than $10 an hour — also serve as brand ambassadors. They will direct riders to points of interest and hand out coupons, drink tokens and promotional materials that encourage riders to patronize local businesses. "The riders go in, and the business now has that trackable ROI," Longgrear says.
St. Petersburg has been the most lucrative market for The Nickel Ride thus far, prompting Longgrear to station six shuttles there. Naples also has six shuttles, Cape Coral has four and the others have three apiece. 
Adding more shuttles to the fleet is the biggest challenge to growth, says Longgrear, so he plans to begin leasing them instead of owning them outright. "They're not cheap," he says, declining to disclose the cost of the vehicles, which he says are based on a proprietary design.
Longgrear, CEO and sole owner-operator, has taken on a silent partner as he looks to expand The Nickel Ride's presence statewide. The company is bringing in more than $30,000 per month in revenue, he says, and has embarked on a Series A round of investment with a target of $1.5 million to $3 million so it can meet its goal of expanding to an additional 20 markets by the end of 2019.
"We have some aggressive growth plans in place," Longgrear says, adding Tampa and Dunedin are likely expansion targets. Florida is the current focus, but a nationwide expansion is on the long-term agenda. "By this time next year, we should be able to double our revenue with every two cities we add."