When somebody, somewhere in America says, "Let's go to Fifth Avenue," Bruce Barone wants the suggestion to be followed by, "Which one, New York or Naples?"
Such is the mission of the executive director of Naples' Fifth Avenue South Business Improvement District, who assumed his role in November 2017. Barone is tasked with raising the profile of the diverse, fashionable shopping, dining and entertainment district, which, for more than a century, in its many forms, has been regarded as the town's Main Street.
In the process, Fifth Avenue South naturally evolved into what is artificially built-in master-planned, mixed-use lifestyle centers. Now property owners who lead the Business Improvement District seek to keep the momentum going.
The eclectic, six-block-long collection of fine and casual dining options, unique mom-and-pop retailers and boutiques, entertainment venues and specialty businesses was doing just fine as it was. But as Naples grows rapidly along with Southwest Florida, competition abounds. That prompted the BID's board to seek a new direction in its marketing.
Their search took them to the 37-year-old Barone, a business and marketing consultant with digital marketing, media and urban design expertise. A resident of Naples since 2001, he holds a master's in architecture from the University of Miami and was a student of Andres Duany, widely known as one of the world's foremost new urbanism gurus. Duany has consulted with multiple Florida cities on urban renewal projects, including Sarasota and Fort Myers. 
Barone brings even more heft to his gig: Fifth Avenue South and the surrounding area was the subject of his 2008 master's thesis, and serves as a microcosm of the new urbanism movement. 
"I don't want Fifth Avenue to be doing just fine," says Barone. "I want it to be significant and really show that not only is it the place to be, but that it is also a place for the community. This is for kids, grandparents, moms and dads, a place to make history and establish traditions. We want to help create memories for people in a place you can't replicate anywhere else."
Not that others haven't tried to replicate the type of atmosphere Fifth Avenue South evokes. "The avenue," as Barone calls it, grew in organic fashion into what developers attempt to create in lifestyle centers that combine dining, entertainment, shopping, office, retail and residential. 
Fifth Avenue South has all that on one meticulously manicured street, from U.S. 41 westward to the Gulf of Mexico. The unique blend of businesses is not controlled by a property manager. Rather, it's self-determined by the building owners and by competitive principles of the businesses themselves.
"There is an overall vision, but it's not micromanaged to where it feels contrived," says Barone. "Fifth Avenue is unique because, first and foremost, it is a neighborhood that has matured over time."
The avenue is ever-evolving, having transformed itself many times over since the 1920s while maintaining its position as the Main Street of Naples. Some 35 property owners along the six-block business district work together to enhance the atmosphere and tenant mix. Although it's fully built out, redevelopment is perpetual.
"There is an overall vision, but it's not micromanaged to where it feels contrived. Fifth Avenue is unique because, first and foremost, it is a neighborhood that has matured over time." Bruce Barone
Nearing completion, for example, is the three-story, art deco-style The Residences at 5th & 5th. That project includes 11,000 square feet of street-level commercial space; residences on the second and third floors at pricing from $2.25 million to $3.5 million-plus; and a pool deck on the roof. It is owned and developed by long-time Fifth Avenue South property owner Phil McCabe. Across Fifth Street, Warwick Florida Properties is building 505 Fifth, a contemporary-style facade with street-level commercial and four condos each on the second and third floors. Units will start at $2.2 million.
"We want to make sure the integrity of Fifth Avenue is preserved while recognizing the value the new buildings and innovative thinking can provide for us," says Barone.
A BID to grow
Innovations arrived slowly, at first. Naples Mayor Bill Barnett, for instance, watched Fifth Avenue South mature from a couple of blocks in 1973 with a few small stores, a bank, a small grocery store, a law firm, a handful of restaurants and a gas station. Today, it is home to 109 shops, galleries and personal services; 40 restaurants, bars and other food purveyors; and more, including the Sugden Theater and the Inn on 5th.
"Personally, I watched Fifth Avenue South grow from those few businesses, which were the heart of Naples even then," says Barnett, Naples' mayor of 15 years. "In 1984, when I was first elected to city council, we were really seeing the insurgence of people just having discovered us."
The growth in real estate that followed this discovery drew the new residents away from the town center to newly developing communities.
"All of a sudden, going in to the 1990s we were losing businesses on Fifth Avenue South," says Barnett. "They were going north because those areas were growing and new shopping centers were going up. So the big question was how do we keep Fifth Avenue South relevant for now and into the future?"
The solution, in 1984, was the creation of a Community Redevelopment Agency, an overlay district extending several blocks east and west of U.S. 41 between Seventh Street South and Seventh Street North. The purpose of the CRA is to guide private and public initiatives for creating economic development, improved physical characteristics, encourage investment, improve the quality of life for residents and establish a framework for the evolution of the district. 
Within the CRA is the Fifth Avenue South BID, a special property tax district in which additional assessments collected are returned to a 501(c)(3) managed by a board comprised of connected and interested parties. A portion of those tax revenues are invested in marketing.
Barone was hired by the board to provide enhanced promotion of Fifth Avenue South — online and in-person. His online efforts have expanded the organization's following significantly, from 2,100 followers on Instagram and 3,300 on Facebook at the beginning of the summer to 5,100 Instagram and 4,900 Facebook followers today. The website has also been upgraded to be more interactive, among its new features is the "Faces of Fifth" campaign with brief videos of the personalities who comprise the business mix.
"Our mission is PR and media," says Barone. "I represent every single business and I want to give them the best platform possible."
The current BID agreement expires in 2020. Renewal of the tax district requires approval from the majority of the property owners and from Naples City Council. Barone is confident it will be renewed for another 10 years.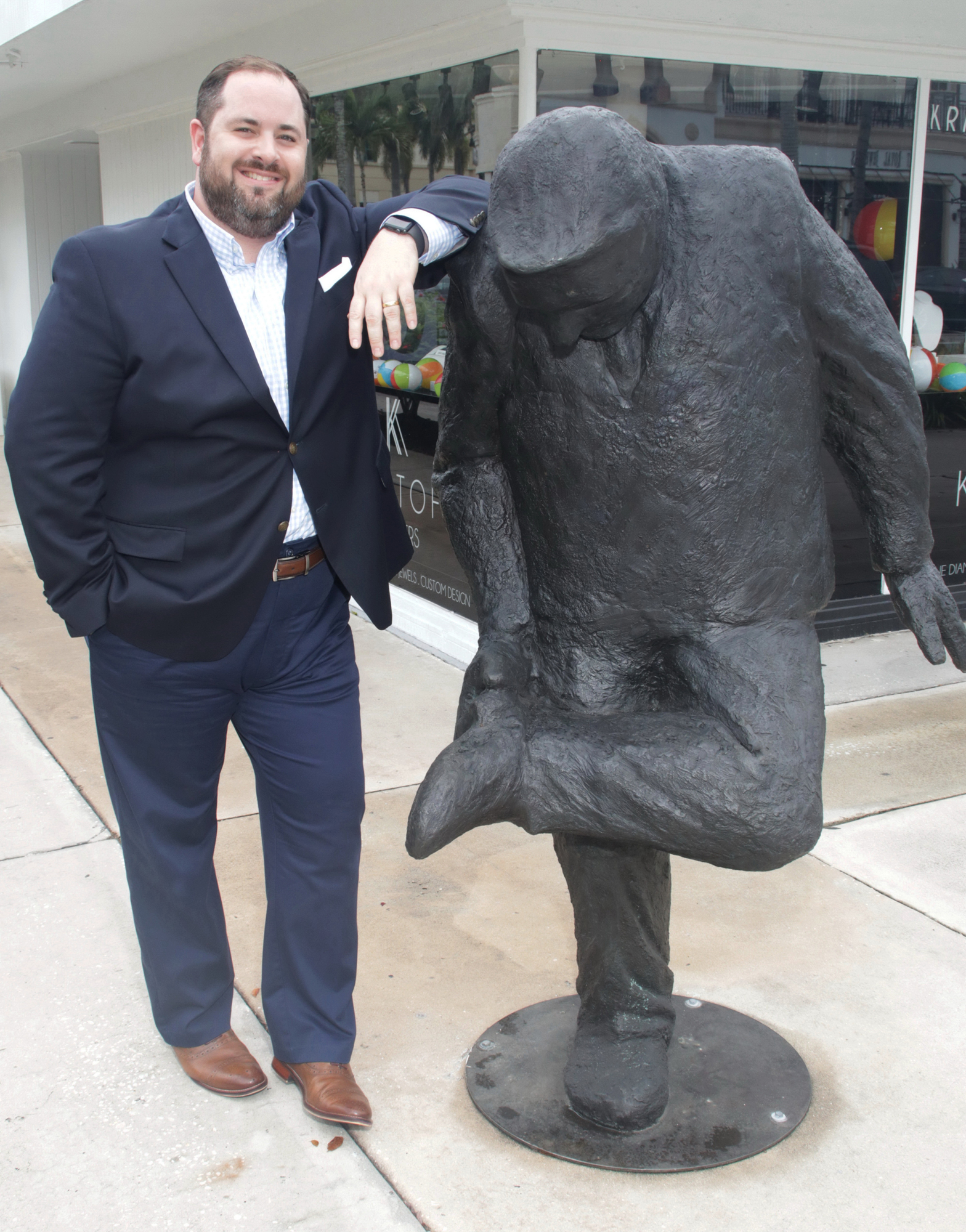 "We provide significant value to the merchants, and that is my priority," Barone says. "We are doing things that have never been done before on Fifth Avenue, and we're just scratching the surface."
Those initiatives include greater emphasis on live music performances, hosting more events at Cambier Park and reconnecting with local residents while reaching out to new markets. Fifth Avenue South will remain relevant, Barone says, providing it remains accessible.
It is, after all, Main Street. Just as it has been for the last 100 years.
"The momentum started when people began to realize that Naples was a place they wanted to be," says Barnett. "There have been ups and downs there, but Fifth Avenue is always coming back and always getting stronger each time."
Something for everyone
At the heart of Fifth Avenue South is the Inn on Fifth, which for more than two decades has drawn tourists worldwide. The cultural hub of the avenue, meanwhile, is Sugden Theater, home of The Naples Players. Together, the inn and theater comprise the central square, flanked by upscale restaurants. 
"I think Fifth Avenue boasts some of the best restaurants in Southwest Florida and beyond, all together on one street," says Barone.
But what makes the avenue successful, he adds, is broad demographic appeal. With five-star restaurants on one end and a beach on the other, it's common to see beachgoers in flip-flops and cover-ups walk one way, stopping at a sub shop for dinner, while theater patrons in formal wear after a five-star meal head in the other direction. Cambier Park, one block to the south, is a venue for family-friendly events and concerts. A handful of franchise retailers and inexpensive dining options expand the available options, and the recent opening of the Nicklaus Children's Hospital Resource Center adds to the variety of visitors.
To ensure that diverse appeal, Barone knows Fifth Avenue South must reinforce the message it isn't exclusively upscale, while simultaneously maintaining its uniqueness.
"We want people to know this is here for them, that it's not too expensive or inaccessible,"  Barone says. "There is always something going on to cater to every demographic, from local families to international tourists. There is a different mix here, and that mix is always changing."