When Mark Vengroff was 15, in the mid 1990s, he bought his dad, Harvey Vengroff, a pair of wacky and wildly colorful Jams shorts for his birthday.
The elder Vengroff wore the shorts — with a Big Dog T-shirt — to a scheduled court hearing in Sarasota the next day, regarding one of Harvey Vengroff's many real estate properties. "The judge asked my dad, 'do you think you are respecting the court with that outfit?," recalls Mark Vengroff. He told the judge, 'my son bought me these shorts for my birthday yesterday. I would be disrespecting him if I didn't wear them.'"
The judge, says Mark Vengroff, mumbled an OK and went on with the hearing.
That judge got a small taste of Harvey Vengroff, described by those who knew him well as a near-perfect case of a life well lived. Vengroff was, in parts, a unique and colorful businessman and bold entrepreneur; a fiercely loyal husband, father, friend and employer; a mentor to many in all walks of life; and, significantly, say his close network of family and friends, a champion for people down and out, with an even bigger distaste for government bureaucrats who he believed stood in the way of him helping people. On the last point, the help came both financially and in Vengroff's network of affordable apartment units in the Sarasota-Bradenton region.  
Vengroff died Oct. 11, after a brief illness. He was 77 years old. 
"He was always doing something to help someone," says his wife, Carol Vengroff. They were together 37 years, and married for 32 years. "He would get 30 or 40 calls a day, and always pick up and say 'Hi, this Harvey, how can I help you?' He was an amazing man."
Both Mark Vengroff and his sister, Kristy Vengroff, say their dad was the epitome of the pay-it-forward philosophy — well before the 2000 Kevin Spacey movie that made the phrase popular. Harvey Vengroff would give interest-free loans, cash gifts and others to many people he came across, all with one request: when the recipient gets back on his or her feet, he or she should be sure to give back to someone else.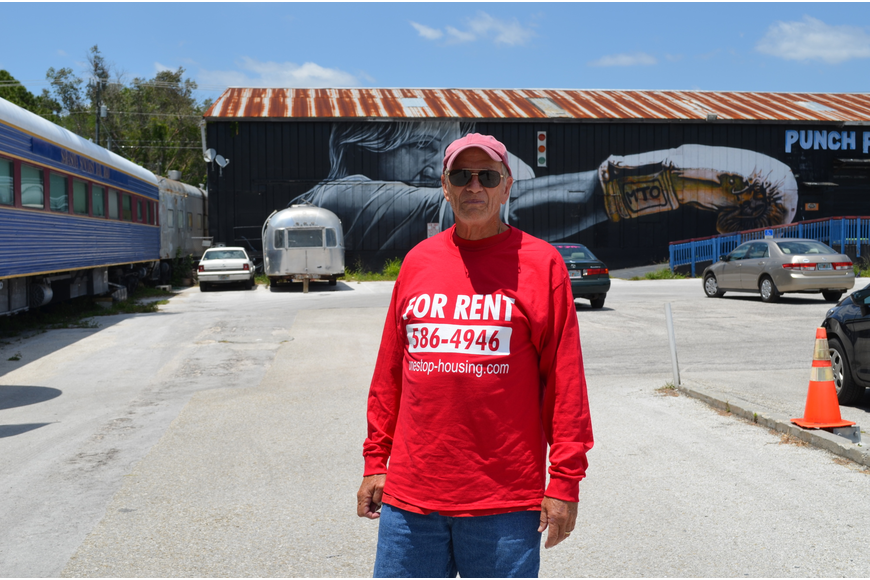 "He was one of the only guys I ever met that was always looking out for the underdog," says Harvey Vengroff's longtime business partner Bob Williams. "He was always willing to give people a second chance, or a third chance."
While generous, Kristy Vengroff says her dad also had an unapologetic fiery side. "My dad wouldn't like it if we make him out to be gentle, if we make him out to be soft," says Vengroff, one of Harvey Vengroff's five children. "He also liked to fight. He loved to fight for people he believed in." 
Not only fight, says Kristy Vengroff, but win — and win with grace. "He always told us that no matter what you are doing, you have to win, you have to hit first and win," she adds. "But don't embarrass anyone. You don't have to keep punching if you've already won. He was tough and kind."
Long career
Vengroff's business career, meanwhile, essentially covers two acts.
Act I is Vengroff Williams & Associates, a commercial debt collection firm that was born in the 1960s, when Vengroff ran a small storefront janitorial services business on his native Long Island, N.Y. His first office was 300 square feet.
A client ran up a $35,000 tab of unpaid bills, Harvey Vengroff recalled in a 2015 interview with the Business Observer, and the cumbersome process of tracking down the money led him to pursue a new venture in 1963: debt collections. The early days of the industry, more than a decade before the 1977 federal Fair Debt Collection Practices Act passed, were the Wild West. That's why Vengroff usually brought along his Great Dane on collection calls.
The company, eventually Vengroff, Williams & Associates, grew to nearly $2 billion in annual revenues and some 600 employees. His business partner, Williams, came into the business in 1980, after a stint in Corporate America, with companies including Estee Lauder and Procter & Gamble. Williams met Vengroff for the first time in 1980, on a cold winter day, when his new boss picked him up at JFK airport in New York in a 1960 Rolls-Royce, wearing a raccoon fur coat. (The Rolls was one of Vengroff's few showy purchases, along with sailboats.)  
'My dad wouldn't like it if we make him out to be gentle, if we make him out to be soft. He also liked to fight. He loved to fight for people he believed in.' Kristy Vengroff 
Williams says Vengroff was the polar opposite of every other executive he had ever encountered or worked with or under. That goes particularly for Vengroff's willingness to challenge conventional wisdom and his mantra that if you don't like something, find the solution and fix it yourself.  "He had no fear," Williams says. "He had a different way of looking at things. He had a unique way of looking at business."
Vengroff sold a large chunk of Vengroff, Williams to Paris-based global conglomerate Capgemini in 2011.
That led to Act II: real estate, with large portfolio of apartments and multiple commercial real estate properties in the Sarasota-Manatee region, including several industrial buildings. "A long time ago someone told me the only way to make money and keep it is in real estate or oil wells," Harvey Vengroff said in 2015. "I don't know much about oil wells."
The bigger focus in the last five years was affordable housing apartments, both for employees who worked for him and others in the community amid life difficulties. That effort, through a entity now named One Stop Housing, has rehabbed and brought some 1,800 apartment units to market in the Sarasota-Bradenton region. It's also led to some of the more testy back-and-forths with Sarasota officials, over zoning and other regulations.
Mark Vengroff will take over the real estate business, working with some other family members. The younger Vengroff actually moved to Sarasota from California six months ago to work alongside his dad, who, while not retiring, sought to do more sailing and less working. "He was really an inspiration to me," Mark Vengroff says. "I will miss him."