Growing up in Canada, Steve Griggs put on his first ice skates at 3 years old. By age 4, he was playing organized hockey. All of his childhood, he dreamed of playing in the National Hockey League.
Fast-forward to today and the now 50-year-old Griggs may not have accomplished that dream. But he managed to find a way to stay close to the ice.
Griggs remembers telling his wife about his second big dream, when he was 22 years old, to one day become president of a hockey team. Griggs has accomplished that — and more. He's the CEO of the Tampa Bay Lightning, Amalie Arena in Tampa, the Tampa Bay Storm Arena Football League team and Tampa Bay Entertainment Properties.
Though his journey has been somewhat of a Cinderella story, working his way up the ranks, Griggs' colleagues point to his tenacity and reliability as keys to his success. Another asset: He's innovative in a crowded and competitive market.
Tampa lawyer Darrell Smith, a partner at Tampa's Shumaker, Loop and Kendrick who has worked with the team, says Griggs is considered "one of the very top rung sports executives in the country." Griggs' innovation is apparent in things like trying to get an outdoor hockey game to come to Raymond James Stadium in Tampa, Smith says. The NHL's winter classic games, played Jan. 1, have been a big hit when played in Canada, the Midwest and Northeast markets.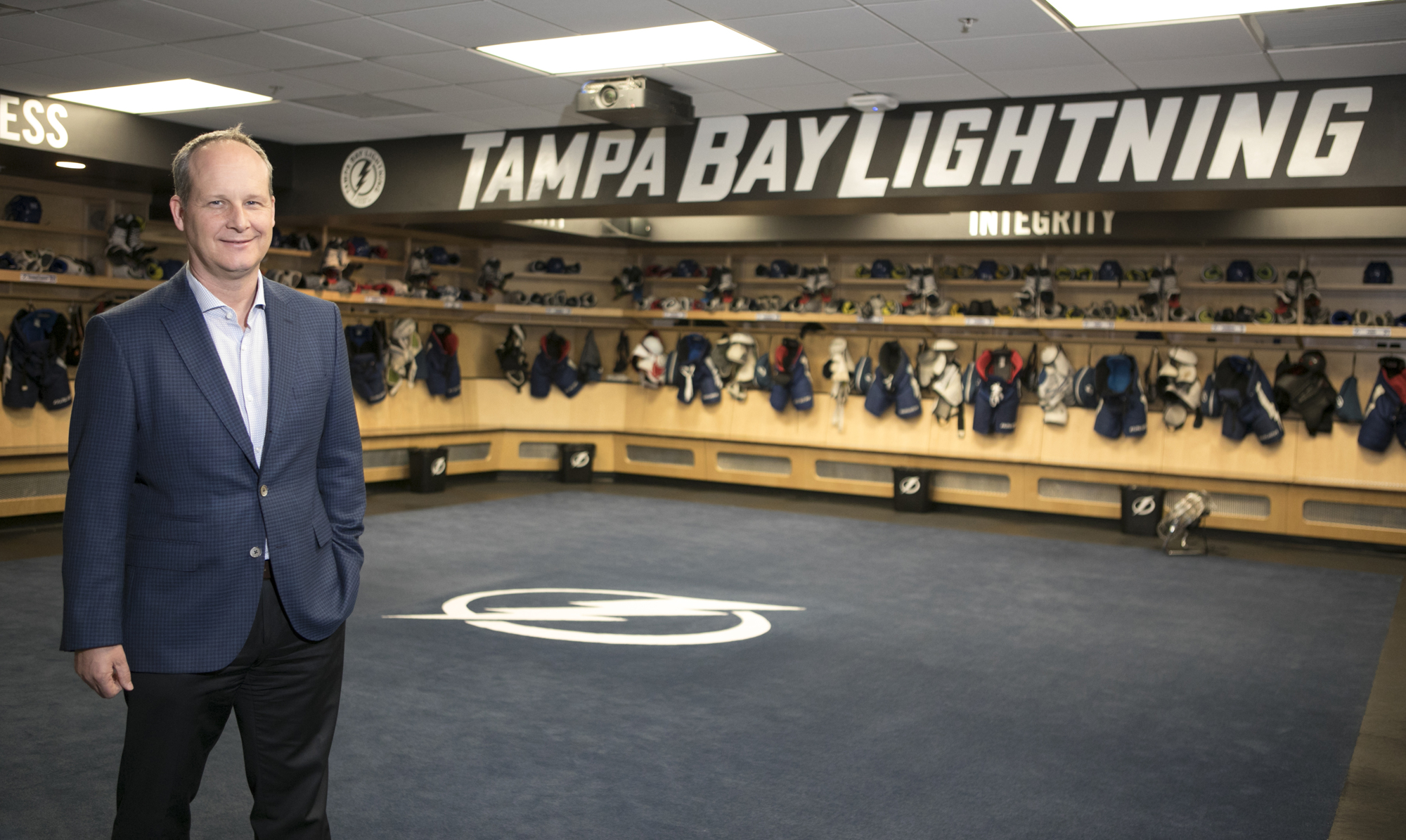 Tampa Bay Lightning owner Jeff Vinik, who is also a real estate developer, investor in an array of businesses and philanthropist, says Griggs has an intensity that reminds Vinik of — himself.  "A burning desire to win on and off the ice," Vinik says. "He bleeds Lightning Blue."
Now Griggs' biggest challenge is to find areas to improve in a team recognized by the NHL as one of the best to play for in the league. It was also voted best franchise in 2016 sports by fans on ESPN. The team has had 130 consecutive sellouts at Amalie Arena — that's more than three seasons — in a tropical state not overly familiar with the sport. Not to mention this year's team is ranked at the top of the NHL in points, making another playoff push after losing in the 2015 Stanley Cup finals.
Cinderella story
To get to the Lightning, Griggs goes back to his entry into sports, selling tickets for the NBA's Toronto Raptors for $8 an hour. Griggs has since made many stops, including notable positions with the NHL's Minnesota Wild and the NBA's Orlando Magic.
He moved to Tampa in 2010 when Vinik bought the Lightning and named prominent sports executive Tod Leiweke CEO. Leiweke, who'd worked with Griggs in Minnesota, brought on Griggs as his COO.
At the time, the Lightning struggled with fan and guest experience. Revenue was among the lowest in the league. The hockey arena was in disrepair. The sales and box office teams didn't get along, and there wasn't much unity across the business. The culture, Griggs says, was broken.
Griggs worked with the executives on $85 million in renovations to the arena, boosting ticket sales, awareness and sponsorships. His success resulted in promotions to president of the team, and eventually to CEO when Leiweke left in July 2015 for a gig in the NFL. Vinik says one of his favorite days was when he told Griggs, "You're my guy. I want you to be CEO of the Lightning."
Griggs says Leiweke told him, "You're ready for this, and you've got to enjoy it." Though it "was not easy to fill his shoes, I knew all of the steps of where he was going …and we talk every week," Griggs adds.
Under Griggs' leadership, the team is on the sellout streak, and overall attendance has grown more than 23%, or 3,500 fans, per game, according to Lightning data. Revenue and profitability are also on the rise, as are corporate partnerships and season ticket renewals. The team is worth around $390 million, according to a November 2017 Forbes analysis of professional sports teams values.
Get better
The next biggest challenge is to find ways to continue to innovate and not become complacent. "It's hard to keep getting better," says Vinik.
It's a rare challenge in pro sports, says University of South Florida sports marketing professor William Sutton, who helped recruit Griggs to the Magic. "Most people have to worry about selling out or selling all inventory — they've done it," he says. The next step, he adds, is "retaining staff with little inventory to sell … keeping them challenged and motivated."
Griggs agrees this is a top priority. He's actively working on building out internal training programs and leadership development opportunities. That's one reason he worked hard to push for events like the NHL All-Star game, held Jan. 28 in Tampa. 
 "I'm in the human capital business," Griggs says, "When I come into work every day it's, 'How am I growing people every day?'"
When he first arrived eight years ago, people used the Lightning as a stepping-stone to go work somewhere else. Griggs moved through a lot of people. "When our culture changed, now everybody wants to stay," he says.
'When I walk through the building I know every usher, every ticket taker. It costs us nothing to be nice to people.' Steve Griggs, CEO, Tampa Bay Lightning
Griggs says he learned how to be a leader by observing how others led him.
For example, Griggs vividly recalls his first CEO's response to a "colossal mistake" Griggs made when he was sales manager for the Raptors.
The mistake? Griggs accidentally double seated 400 people. He remembers going into the CEO's office thinking, 'Well, this was a nice run.'
Instead, the CEO, recalls Griggs, told him, "Mistakes give you experience and experience gives you wisdom." Learning from these mistakes, the executive added, is what is most important.
Griggs also learned from Leiweke. Griggs says he used to be a bad manager, sometimes tearing people apart in meetings. Leiweke taught him how to motivate employees, and how to actually manage, Griggs says.
"People are motivated in different ways … when people see success, they are hungry for more," Griggs says. "I treat myself like a hockey coach; you have to push all the right buttons for the team."
For some that might be a day off, or paying the bill for someone to go out with their family. For others it might be cash bonuses.  
Griggs strongly ascribes to theories in the book "The Power of Who," by executive search expert Bob Beaudine. The author encourages business leaders to build a network from people they already know. So when looking for a job, instead of considering title, salary or office size, one of Griggs' main criteria is who his boss will be and what he'll learn from that boss.
Griggs has already learned a lot from Vinik — "the best owner in sports," he says, and "the smartest man I've every worked for." He says Vinik taught him how to unite 200 full-time and 1,000 part-time employees behind one mission, no matter if they are a player, usher or in food service. That mission: Win the Stanley Cup.
Now, "when I walk through the building I know every usher, every ticket taker," Griggs says. "It costs us nothing to be nice to people."
Vinik says it's part of Griggs's DNA that "we do everything we can to do everything the right way" and not just the most profitable way.
Vinik is also impressed by how Griggs values both work and family life. This is something Griggs has started to look for in hires as well, inviting job candidates and their spouses to dinners before hiring.
'You're my guy. I want you to be CEO of the Lightning.' Jeff Vinik
Challenges loom
Instead of sitting in Vinik's box where there's an open seat during games, Griggs works the floor, making sure everything is executed perfectly, Vinik says.
Griggs, adds Vinik, makes sure "the hot dogs are hot, customers are greeted with a smile, employees feel they are being heard and valued appropriately, and the hockey program is getting all the resources they need."
It helps, adds Sutton, who is also the director of the Vinik Sports & Entertainment Management Program at USF, that Griggs is "straightforward and direct, and holds people to high accountability, but at the same time is a family guy, finding work-life balance for him and all employees."
Sutton says Griggs is successful because "he always delivers. He doesn't talk unless he knows he can do it. There's never an unfulfilled promise or disappointment with Steve."
Of course, the job isn't without its challenges. One obstacle comes with USF's Sun Dome, which Tampa Bay Entertainment Properties took on last year. It's a work in progress, says Griggs. Though he believes it's a good venue, not many know about it. Not only does Griggs need to make the fan experience as good as they've made it at Amalie Arena, he needs to re-educate promoters and tell the venue's story better to attract bigger acts and sponsors.
 Another challenge is in continuing to grow the area surrounding Amalie Arena. Though redevelopment and reinvigoration of the Channel District in downtown Tampa should spur additional activity and attention on the venue, construction, traffic and parking will be huge growing pains impacting the fan experience.
"The good news is we're winning — the mustard is more yellow, the seats are wider, the beer is cooler, that kind of thing," Griggs says. "But there's going to be some heartburn between now and then."