Two major players in health care in Sarasota County — Sarasota Memorial Health Care System and Venice Regional Bayfront Health — are planning new facilities near each other in Venice.
For SMH, it's an opportunity to more fully enter the southern part of the county and serve patients there in a hospital setting.
For Venice Regional, owned by Tennessee-based Community Health Systems Inc., it's about replacing an existing hospital that's struggled with physical plant issues in the past.
SMH submitted a certificate of need application to the Florida Agency for Health Care Administration for its Laurel Road hospital, and Venice Regional submitted an application for its replacement hospital. The health care organizations challenged each other's applications (as did other organizations), but an administrative law judge recommended approval of both. On July 9, the Florida Agency for Health Care Administration granted final approval of both certificates of need.  
With both projects aiming to move forward, the leaders of both organizations share details about the new facilities, the road ahead and what good old-fashioned competition has to do with it.
Venice Regional Bayfront Health
In 2017, Venice Regional recorded 8,581 inpatient stays and 69,974 outpatient stays.
It's a shift, hospital officials say, not just in Venice, but in the way health care is administered — less inpatient care, more outpatient procedures.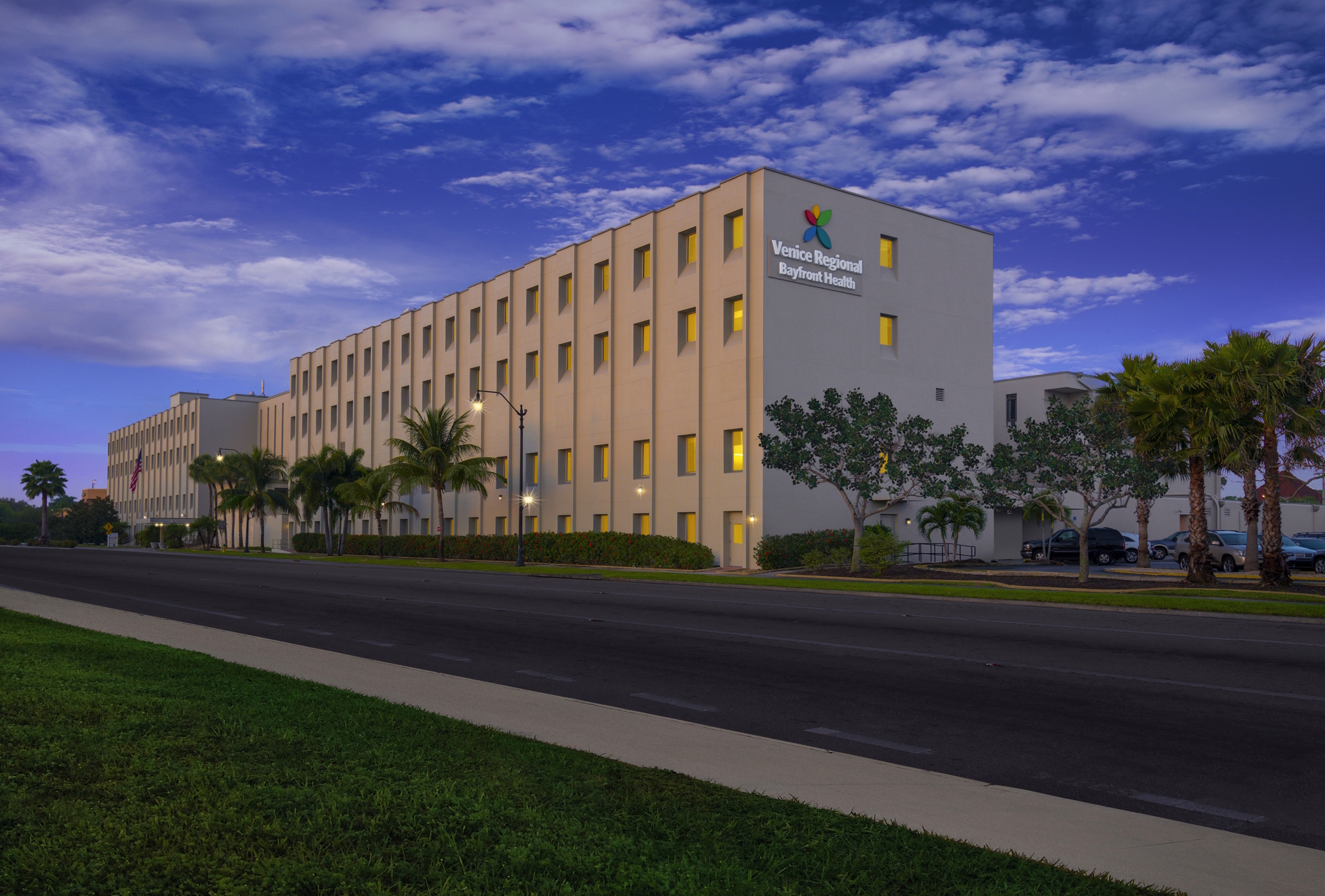 Those numbers played into a key decision for Venice Regional: Replace its 67-year-old building on Venice Island with a new hospital — one that has fewer patient beds. The current facility has 312 beds. Plans call for 210 beds in the new hospital.
"Health care has changed," says Venice Regional CEO Bob Moore. "I've been in this business for 40 years. The need for inpatient beds has diminished as we do more on the outpatient basis."
Even with population growth in the area, Moore says, the smaller number of beds will be enough to serve patients.
The rooms will be private, a point of differentiation from the current Venice Regional hospital. "In season, we can't offer private rooms," Moore says.
The new facility, between the hospital itself and the land, will cost $212 million. "The rule of thumb is $1 million a bed to build," says Moore.
The hospital will be about 600,000 square feet, but that number is still somewhat up in the air because it's in the early design phase.
"I think competition is always good in health care. I think it improves the quality overall." — Bob Moore, CEO, Venice Regional Bayfront Health
It will be a five-story structure with an emergency room, lab services, physical and occupational therapy, surgical suites, an intensive care unit and more. There are also plans for the campus to include medical offices.
Moore says renovating the current hospital was considered, but it wasn't feasible. For one, the hospital is landlocked and physical expansion is limited. And, he says, it would be difficult to continue operating while portions of the facility are demolished or built.
An emergency room and other ambulatory services will stay on Venice Island. Inpatient beds will move to the new facility.
The hospital is on track to break ground on construction at the end of the year and open in spring 2021.
Venice Regional, after final certificate of need approval, will have to address some zoning changes related to land use and height restrictions. "Once we start clearing land, it's about a 24-month construction project," Moore says.
As for what Sarasota Memorial's planned hospital nearby on Laurel Road will mean for the new Venice Regional facility, Moore says it's won't be so different than the competition that exists now, with patients having the option to seek services from Venice Regional or drive to Sarasota Memorial Hospital or other facilities.
"I think competition is always good in health care," he says. "I think it improves the quality overall. We'll have a good competitor to compete with."
Venice Regional, Moore says, has served the Venice community for 67 years. It has long-term employees, volunteers and doctors. "We'll differentiate ourselves through the patient experience," he says. "We're invested in the community, and we'll continue to do that."
Sarasota Memorial Health Care System
Population growth in the southern part of Sarasota is behind Sarasota Memorial Health Care System's move to open a hospital in Venice.
Sarasota Memorial Health Care System President and CEO David Verinder says it's also because the main hospital in Sarasota is running out of space. He points to occupancy numbers — up 40% since 2014. "We are completely at capacity."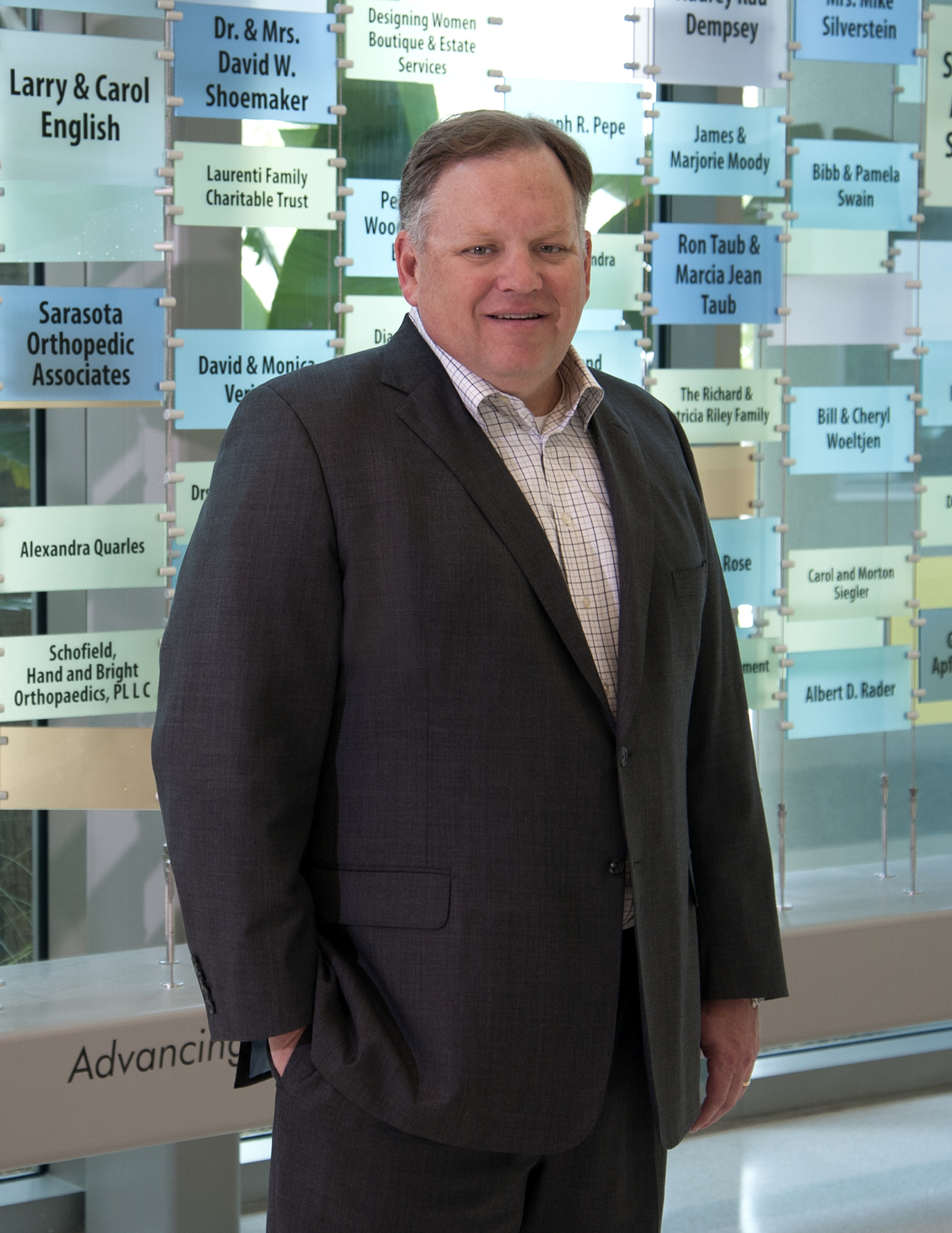 Patients are driving to the Sarasota hospital from the south, as well as from other areas, he says. "We needed to extend our delivery system."
To determine how many beds would be needed at the Laurel Road hospital, SMH looked at numbers. "We took a hard look at the data that would support our certificate of need application," Verinder says. "We thought the area could sustain 90 beds."
Verinder says his team anticipates the Laurel Road hospital will open three years. But, he cautions, "There's a lot of things that need to happen to make that go right." 
That includes zoning and working with the city of Venice on the design of the facility. Plus there's the X-factor of weather, he points out. There's always the chance heavy rain or storms could delay construction.
Plans for a Laurel Road hospital have been in the works for a while. SMH bought the 65-acre property in 2005 for $25.6 million. In November 2017, SMH chose Flad Architects and Gilbane Building Co. for the project.
"We expect to earn people's business." — David Verinder, president and CEO, Sarasota Memorial Health Care System
The hospital, which will have all private rooms, is estimated to cost $225 million.  "We're working with architects to finalize the cost number now," Verinder says. "I think it will be that, plus a bit."
As for how the Laurel Road hospital might compete with a new Venice Regional hospital, Verinder says SMH is focused on delivering quality services to patients.
"We're not so concerned with what CHS or Venice Regional is doing," he says. "We'll take our brand and our expertise that we've built over 93 years now down into that area and replicate our abilities down there. It will give our patients choice. They can choose to go to Sarasota Memorial or they can choose to go to another hospital. We expect to earn people's business."