The people who lived in Charlie Haney's cul-de-sac in southern New Jersey loved him like family.
Haney's neighborly deed: Regular drives back to his native Boston to his favorite local butcher shops, where he would buy hundreds of pounds of fresh marinated steak tips and chicken. Then he would throw huge, everyone-leaves-full parties back in Jersey. "People would tell me, 'Oh my God, this is the greatest meat I've ever tasted,'" recalls Haney. "Why isn't there anything like this around here?"
Haney, back then in 2012, owned two franchise restaurants in the Garden State, a Melting Pot and a Burger 21 — both under Tampa-based Front Burner. (Front Burner has since spun off Burger 21.) Haney's Atlantic City Melting Pot was the chain's top location in 2010, when it did $3 million in sales, despite opening during the recession.
 'I've seen franchises grow faster than they can support and that's when stores start to close. We're going to build the infrastructure first.' Charlie Haney, Butcher's Mark
While restaurants were nice, the fans of his meat gave Haney a different idea. Could he recreate the robust flavors of old-school New England butchers, but on a national, franchise scale with high-touch customer service under an engaging and refined brand?
Haney's answer is a resounding yes. And he's already invested some $2 million to begin testing the concept, under the name Butcher's Mark. Most of that capital, from savings, has gone toward the extensive build out of the first location, in a high-traffic location in fast-growing east Manatee County. Haney plans to open two more corporate-owned stores in the area in the next 18 months. Then, he has a slow-but-steady franchise expansion plan.
"Everything I've done with this business," Haney says, "answers two questions: Can I easily duplicate this in other stores, and will it be profitable for the franchisee?"
Haney, 41, says those answers come from his devotion to a trial-and-error method of building consistent operating systems, first in the water treatment business and later in restaurants. It's one of his business principles that could apply to nearly any company. "I call it a start and stop exercise," says Haney. "Sometimes we have to stop and start over. I'm passionate about perfection."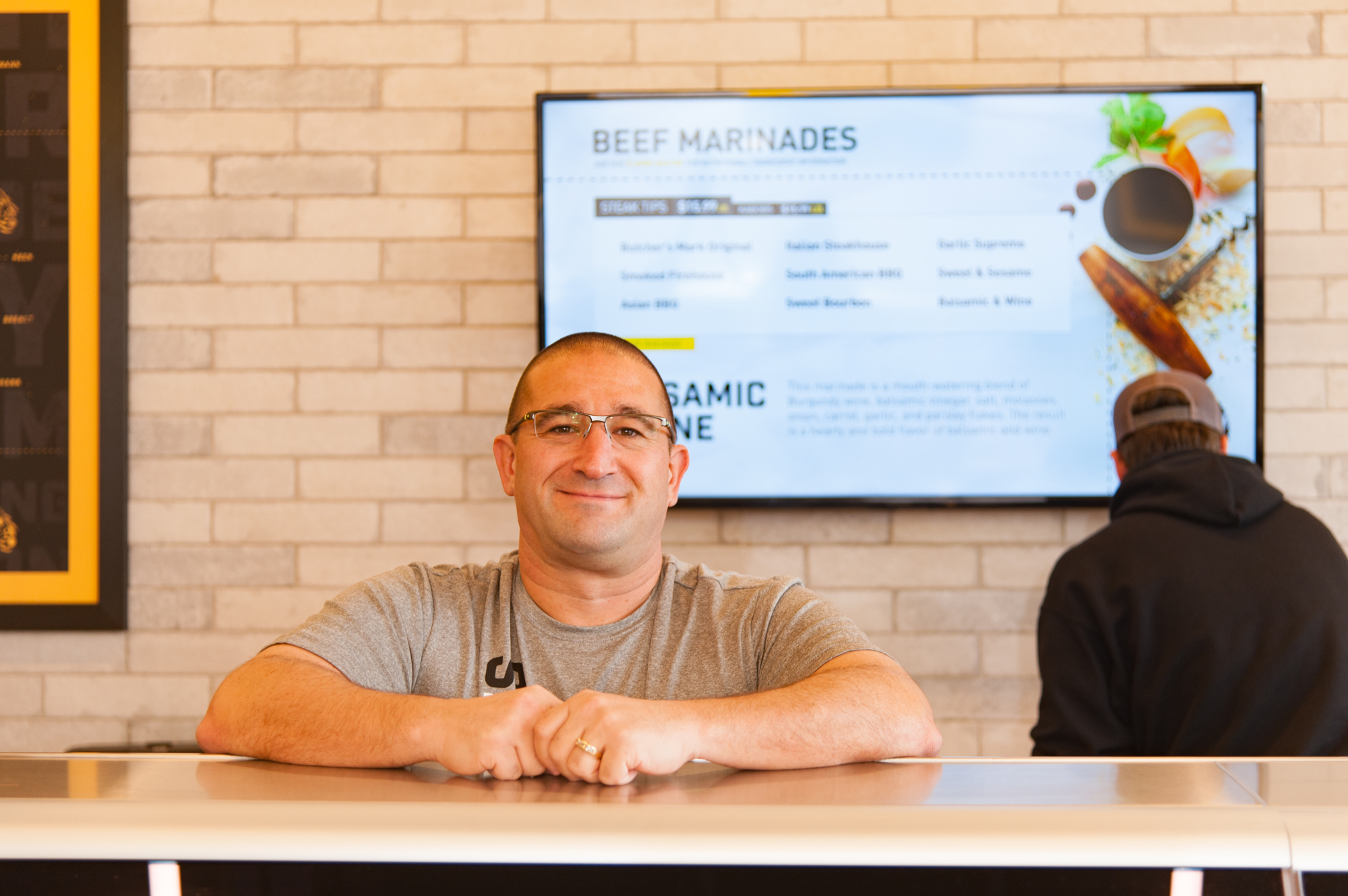 The Butcher's Mark store, which opened in late November, is a paean to that pursuit of perfection. The prep rooms, for example, have epoxy floors, 10-foot ceilings and a trio of work areas to ensure cleanliness, top-notch food safety and freshness. For the walk-in storage refrigerator, Haney found a French company that makes food-grade storage shelving material that can be easily cleaned — an improvement over traditional restaurant industry wire shelving.
The product selection also comes under Haney's rules of perfection. The beef is from the Revier Cattle Co. in Minnesota, nationally known for selling Black Angus beef to high-end restaurants. The chicken and pork, too, are single-sourced from top vendors. Cheeses and olive oils are also sourced to top companies, says Haney, down to trips he took to Italy to test products. And the marinades are a combination of secret recipes. "Pretty much if you can't find it in any other place, you can find it here," says Haney.
Haney, who chaired the Melting Pot's franchisee advisor group and remains friends with Front Burner CEO Bob Johnston, sold his Melting Pot and Burger 21 to focus on Butchers Mark. He owns two Rodizio Grill locations, one in New Jersey and one in Sarasota.
On his own franchise plans, Haney says he will start with Florida for Butcher's Mark, opening, he hopes, soon after his third corporate store. "I've seen franchises grow faster than they can support and that's when stores start to close. We're going to build the infrastructure first," says Haney, who adds his rule is to add support staff for every 10 stores.
Haney's biggest challenge is to find top people, or as he says, "people who are as passionate as I am about going the extra mile for the customer." (One example: He plans to have employees walk packages out to customer's cars.) He will have about 25 employees with the first location.
"We can have the best meat, have the best marinades and have the best brand and the best logo," says Haney. "But if we don't have the right culture we will fall short."